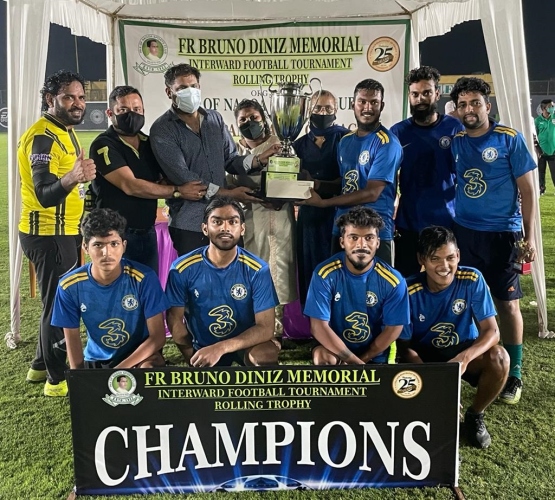 MARGAO
Mount Merry Boys crushed Pimpalwaddo Boys 4-1 to clinch the Fr Bruno Diniz Memorial Trophy inter ward football tournament organised by PAX of Nagoa in association with VP Nagoa at Nagoa ground on Sunday.
Mount Merry Boys netted a brace through Ajay Lobo, who found the net in the 10th and 18th minutes, while Myron and Lerry were the other scorers, striking in the 25th and 39th minutes respectively. Alen Rodrigues pulled a goal back for Pimpalwaddo in the 50th minute. Individual prizes: Best defender of the final – Imran, Mount Merry Boys, Best striker of the final – Ajay, Mount Merry Boys, Best goalkeeper of the final – Ali, Mount Merry Boys, Player of the tournament – Sweden, Pimpalwaddo Boys.
Fr Edson Fernandes, parish priest of Our Lady of Succour and Good Success Church, Nagoa, was the chief guest and gave away the prizes in the presence of sarpanch Glevina Vaz, panch members Gaby Fernandes , Maria Cabral and football promoter from Verna, Armando.