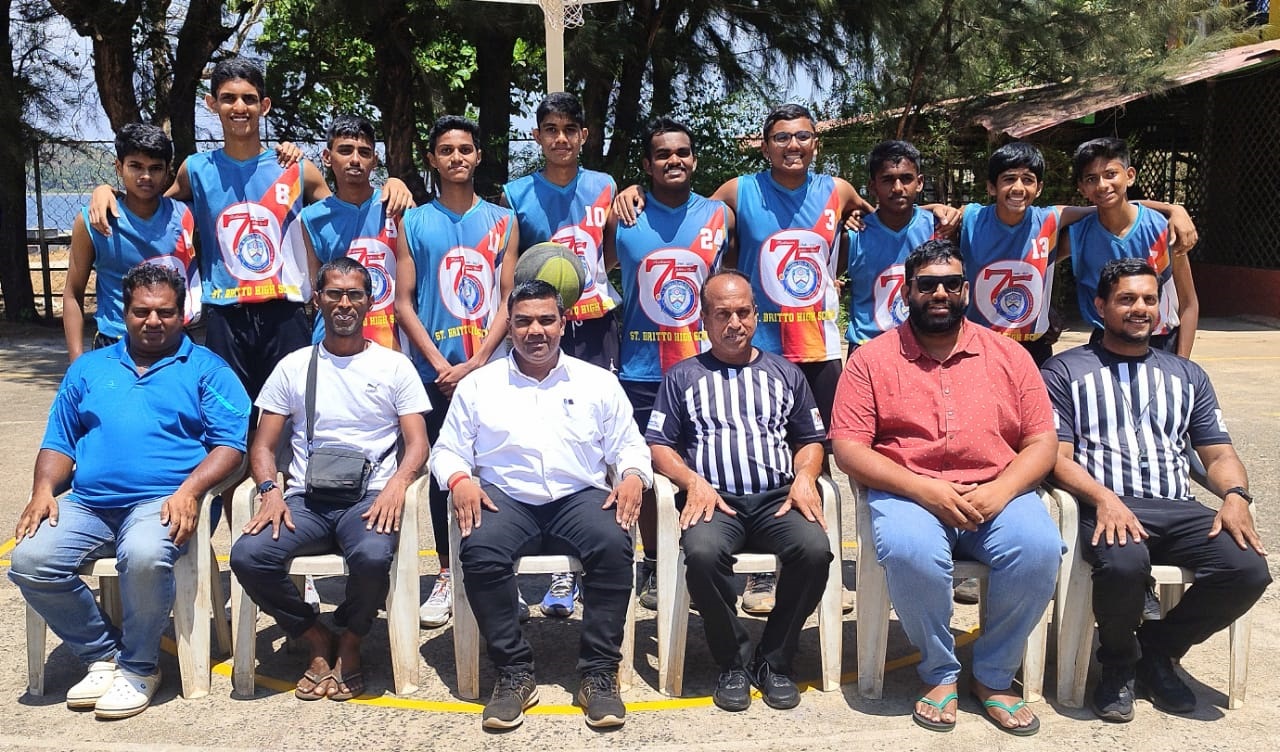 Photo Credits: The Goan
MARGAO
Nerul Sports Club scored a hard-fought solitary goal win over favourites St Savio Sports Club, Calangute 1-0 to move into the semifinals of the 15th London Trophy Inter-village Football Tournament 2023, organised by Goa Velha Sports Club at Goa Velha Sports Club ground on Wednesday.
The only goal of the match was scored by Dansley Gonsalves, who beat the Calangute keeper Selwyn D'Souza in the 51st minute. St Savio went all out to equalise but could not get past Krupesh Bandodkar in the Nerul goal.
Ransley Gonsalves of Nerul SC was awarded the Man of the Match prize by Michael D'Souza, vice-president of Goa Velha SC.
Goa Veterans win Asian Championship
Goa Veterans football team beat Malaysia Veterans 1-0 to win the Asian Championship organised by Bengaluru Veterans Coaching and Recreation Centre, Austin Town, Bengaluru, Karnataka at Karnataka District Football Ground. The all-important goal was scored by Niclao Borges.
In all, six teams participated in the tournament, namely, Wawasan Malaysia, BVC & RC Bengaluru, Indo-French Veterans Pondicherry, Kick Football Academy Chennai, Goa Veterans Club Goa and Tiger Veterans Kannur Kerala. In the semifinal, Goa Veterans defeated Royal Tiger Veterans Kerala 3-0.
Niclao Borges, Seby Vaz and Josorose Oliveiro scored the goals. Camilo Barreto was awarded as the Best Goalkeeper of the Tournament. Goa Veterans team: Camilo Barreto, Edith Fernandes, Pascoal Fernandes, Josorose Oliveiro, Vincent Colaco, Remy Colaco, Santan Colaco, Vitorin Colaco, Melvin Fernandes, Seby Vaz, Ramesh Palkar, Benedict Fernandes, Santan Colaco (Jr) and Niclao Borges. The team was coached by coach Luis Vas and Manoj Naik Keny was the manager.
St Britto's win State U-17 basketball title
St Britto's High School, Mapusa beat Loyola High School, Margao to clinch the under-17 boys basketball tournament organised by the Directorate of Sports and Youth Affairs at Youth Hostel, Miramar recently.
St Britto's won the State final 56-34. In the third-place playoff, Don Bosco High School, Panaji defeated Fr Agnel Multipurpose High School, Verna 33-1 in a one-sided match. St Britto's team: Daniel Saji, Lemuel Fernandes, Aditya Naik, Shannon Travasso, Charles Pereira, Miran Khan, Saurav Palyekar, Cyrus Lobo, Isaac Mendes, Aryan De Souza.
AWES multi-sport festival for veterans on March 26
The Association for the Wellbeing of Elder Sportspersons in association with BPS Sports Club, Margao and Enfermos Sports Club, Sinquetim, Navelim will organise a multi-sport festival for veteran sportspersons 60 years and above.
There will be team game of football and athletics at the Sinquetim Sports Complex, Navelim and tennis, table tennis and badminton at the BPS Sports Club, Margao. The matches will be played between 9 am and 11.30 am on Sunday, March 26. Over 120 competitors, men and women, are expected to take part. After the matches, the elder sportspersons will get together for a fellowship lunch at the BPS Sports Club. During the get-together, 40 sportspersons in the age group of 80 years and above will be felicitated.
DIAL to organise Skylympics 2023
PANAJI: Delhi International Airport Limited, a GMR Airports Infrastructure Limited-led consortium that manages and operates India's busiest Delhi Airport, is organising the third edition of Skylympics 2023, the country's aviation-only sporting extravaganza.
The three-day event will begin on March 23 and will be attended by stakeholders from different aviation businesses including airlines, retail concessionaires, ground handlers, cargo companies and airport developers. A total of 23 teams, consisting of over 900 players will compete in 10 sporting events -- athletics, arm wrestling, badminton, carrom, cricket, cycling, football, kabaddi, table tennis and volleyball.