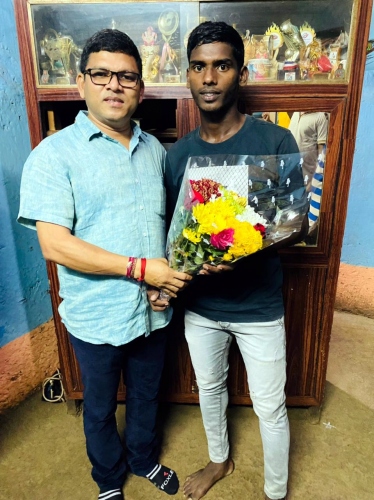 Photo Credits: The Goan Everyday
SANGUEM
A young footballer from a remote ward of Cotarli in Uguem-Sanguem who went on to play for Vasco Sports Club is set to achieve further fame after signing up with Indian Super League (ISL) side Kerala Blasters FC.
Locals in Uguem were jubilant on learning that their son of the soil, Anil Gaonkar (25), had brought laurels to the village when he signed a two-year deal with the Blasters and will soon join the ISL team for pre-season matches.
Gaonkar, who was with Vasco Sports Club, started playing football since his school days. He began his footballing career with the Guardian Angel Sports Club and was also seen playing for the local club, Uguem Rising Club.
President of Uguem Rising Club, Marcus Pereira, who is also a panchayat member of Uguem, was ecstatic with the elevation of Anil to the national level.
"Gaonkar hails from a very poor family and from a ward in Uguem village, which does not have a football ground and most youths of his age are addicted to cricket," said Pereira. "Gaonkar's solo performances would help Uguem Rising Club win many matches and football tournaments."
Immediately on getting information that Gaonkar had signed up for Kerala Blasters, Sanguem MLA Prasad Gaonkar along with former Uguem sarpanch Sanjay Parwar and URC president Pereira congratulated Anil at his residence.
Prasad Gaonkar said Anil's move to Kerala is a big achievement for Sanguem taluka. "Anil Gaonkar will now be seen as a role model for many youths from Sanguem taluka, who will now take the game of football seriously," said the MLA.
Gaonkar had shot to fame with his performance for Vasco SC during the Goa Professional League. "I was very happy and surprised when my coach Micky Fernandes informed me that Kerala Blastars FC want to sign me for the upcoming season of ISL," Anil was quoted as saying by PTI.
The winger said it was a dream come true as he always wanted to play in the popular league. Gaonkar has been with Vasco SC for the last four years and has represented the State in U-20 tournaments.
"I have to prove my mettle now. If they consider me as an asset for them, I have to prove them right," said Anil.