The Gomes family has a reputation in the Gogol area, as for most major festivities, it is their taal of the ghumot that breaks the ice. However, the 78-year-old septuagenarian is yet to receive any recognition that senior artists of the soil are entitled to get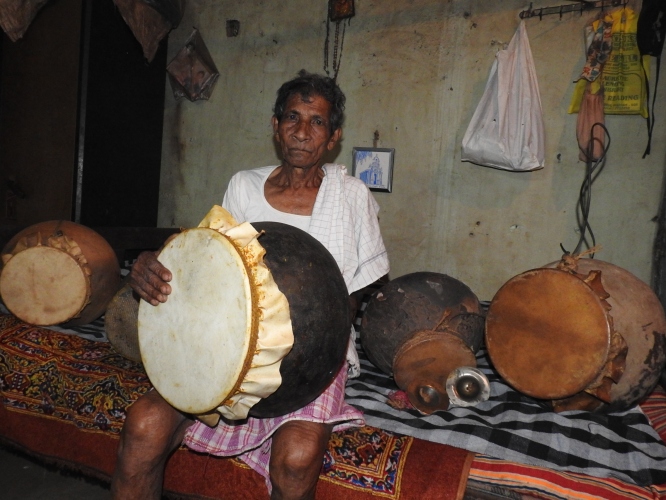 #TGLIFE
PANAJI
The sounds of ghumot are familiar to the ears of those living in Goa, especially whenever celebrations happen, be it in the Hindu or the Catholic community as this is the traditional musical instrument that the State has witnessed for generations, even before the Portuguese invaded our tiny paradise.
In the recent past, ghumot has earned the prestige of being declared as the State instrument. There are families that still carry the legacy of playing this instrument for generations and one such family is that of Marian Piedad Gomes, a septuagenarian from Gogol, Margao.
Marian is accompanied by his 23-year-old grandson Ryan Gomes and his teenage grand-daughters Sansia and Sania.
Marian, who has been playing the ghumot since he was 15 has learnt the nuances from his late father Camilo Gomes, also a popular ghumot artist in his times. Marian's grandfather Joao Gomes was a ghumot artist as well and music runs in the DNA of the Gomes family.
However, the 78-year-old farmer who played the ghumot recently at the New Year festivities in Gogol- Margao, laments that though he is invited to play during the local Carnival celebrations, weddings, feasts and fairs, yet till date his art has not gained any recognition in the government books, nor did he receive any State award or pension that senior artists of the soil are entitled to get.
"I had three sons but, unfortunately, all of them passed away before me and I am left with their families, and young grandchildren who I have to look after. I still farm my own land at Davorlim and also work as a farm aid in others' fields. Even at this age, I am still invited to play ghumot and I oblige with my group, but the payment is not much and whatever we earn is distributed among the group members, who are over a dozen," states Marian, whose wife Josepha accompanies him as a folk dancer.
Together, the couple is in possession of 9 ghumots, 4 majani and one kasale, some of them belonging to their ancestors. "We have preserved the family tradition of music and the musical instruments, both," shares Marian, the third among four siblings. Both his elder brothers have died and the younger one does not play due to his ill-health.
The Gomes family has a reputation in the Gogol area, as for most major festivities, it is their taal of the ghumot that breaks the ice. "People go into a trance when they hear the mixed sounds of the ghumot, majni and kasale. These three instruments are a must in any traditional celebration in Goa," adds Marian, who keeps adding to his instruments as they wear out.
"Last year, I purchased two small ghumots for Rs 1500 each, and I also, occasionally, replace the skins of our family ghumots to maintain their sound quality," he briefs as he shows the instruments hanging in his tiny kitchen.
"The ghumots are hung from hooks in the roof to safeguard them from breakages and to keep people from fiddling unnecessarily with them," informs Marian who also plays for football I-League games and trains enthusiastic learners from Salcete.
A singer with a soft, toned voice Marian plays and sings at the same time, mesmerizing audiences even at this ripe age. The State government needs to recognize the art that Gomes family has preserved for generations and reward this senior citizen, express locals from Gogol who have witnessed the family suffer after the demise of all of Marian's sons.