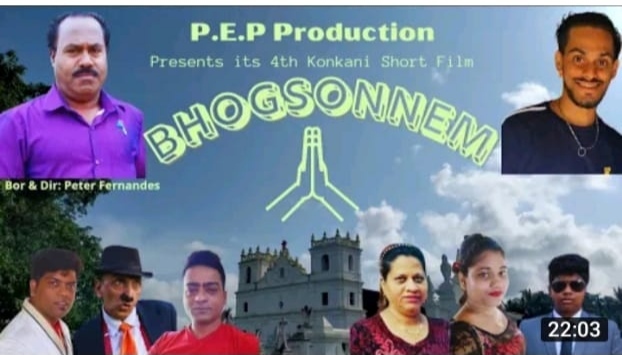 Story
This is a P E P Productions film produced by Peter Fernandes. The film is a family potpourri on marital infidelity. The mother informs her son that his wife is in a relationship with another man, but the man is blinded by his wife's love and for the sake of harmony in the family chooses to ignore the findings of his mother. Realisation dawns, but at what cost? The film story hits the audience hard on this.
Screenplay
The screenplay is written more like a stage play than a film. The storyline is straight to the point. But the comedy scenes have no bearing on the film. Giving it again a feel of a khell tiatr. The story is nicely developed but it defies logic. Weightage has been given to the dialogues rather than visuals.
Music
The film has no title track or any other song in the film. There is ample scope for songs but the director didn't feel right to look into this aspect. The background score and effect is scarce and good attention is not paid as a result the film witnesses drabness.
Acting
The actors are natural in their acting. The artistes are relatively new but they give a good display of talent. The comedians are simply superb. Special mention needs to be made of the 'bebdo' in the comedy scenes. His mannerisms and stage presence reminds the viewer of the late Jacinto Vaz. The male lead is also very convincing in his role.
Cinematography
The Cinematography and editing are average. No valuable use of camera lens is made. The film appears to be shot as enacted more like a stage play. The cinematographer appears short of ideas with the different use of shots.
Direction
Direction is the drawback of the film. The end should have been better thought of and the director could have made the writer think from a different angle instead of the tiatr type message giving end.