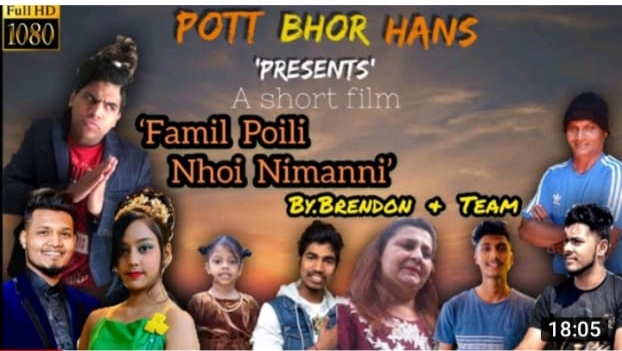 Story
This film is produced by Brandon Rato for Pott Bhor Hans Productions. The film is a soul stirrer that highlights the importance and reverence for a family. The son is in the UK with his parents and siblings in Goa. The film starts with the news that the father of the protagonist is no more. The sequences that follow make for interesting viewing.
Screenplay
The screenplay wonders even in the dream of the protagonist and is written too loose. Characters are brought in for the sake of screen presence and the presence of over 50% of the characters is unjustified and surplus. The climax of the film has no filmy justification. The film moves on interestingly, but the final 'message giving' episode was surely not needed and the film could conclude on its own which could have given the movie a greater high.
Music
The film has a song which is beautifully composed and sung too. There is ample scope for more songs but the director didn't feel it right to look into this aspect. The background score and effect is scarce and good attention is not paid as a result the film witnesses drabness.
Acting
The actors are natural in their performance. Brandon, the protagonist youth, his friend on call, and his parents Chitra and Anthony Carr are all convincing in their respective roles. Aleka and the baby in cameo roles are cute and convincing. The naturality in dialogue delivery by these artistes makes the film an interesting feature to watch.
Cinematography
The Cinematography and editing are good in the film. However, no valuable use of the camera lens is made. The film appears to be shot as enacted. The cinematographer appears short of ideas with the different use of shots.
Direction
The direction is good. Decent attention is paid to this aspect and the film gets a boost on this count. The end, however, should have been better thought of and the director could have made the writer think from different angles.