From stimulating blood circulation to reducing oiliness, soothing sunburns to laying a refreshing ground-work for makeup, there is no limit to what ice-cubes can do. No matter what your skin condition, ice cubes are a brilliant option to help rejuvenate your skin, clear acne and increase radiance.Read on to see all that you can freeze to make your very own beauty-boosting ice cubes to get supple, attractive and radiant skin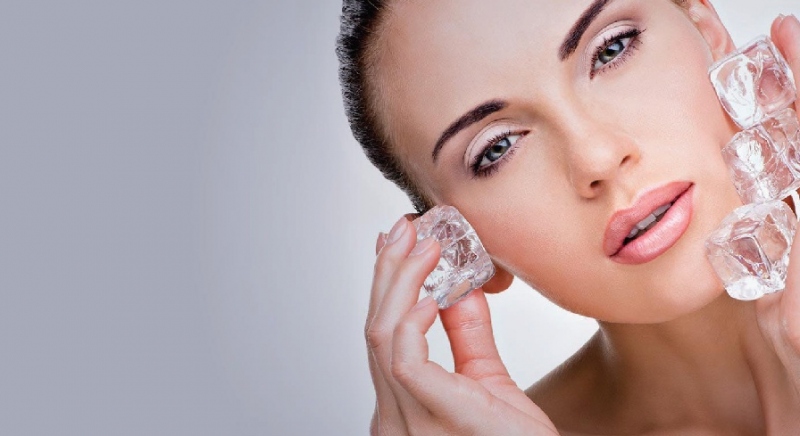 Aloe vera ice cubes
Aloeverais known as 'nature's beauty secret'. These aloe vera ice cubes not only cool and soothe the skin, but alsoheal sunburnt skin. The regular use of aloe vera cubes will help fight infections, soothe sunburns, skin eruptions, black spots and even acne.
If you are purchasing aloe vera gel from the market then select natural aloe vera gel that contains close to 100 per cent aloe vera with no added preservatives. Some brands have added ingredients, which may interfere with the freezing process and you may not get desired results.
• Choose an aloe plant with mature leaves growing near the base of the plant
• If there are no leaves growing at the root of the plant, then it is not ready for harvesting.
• Take one bottle of natural aloe vera gel. Pour the gelinto an ice cubetray
• Fill each reservoir of the ice cube tray three-quarters of the way with aloe gel
• You can pour 2-3 drops of essential oil in each sectionand let it freeze for a few hours
• You can also add marigoldflowers to enhance cooling as marigold is a natural anti-oxidant and can heal burns and other skin irritations.
• A basil and aloe veracombo is also a great cooling remedy for sunburn. Take fewbasil leaves in a cup of water and grind them
• Add 2 tablespoon of natural aloe vera gel and mix
• Pour into ice-cube trays and freeze for a few hours
• Use once or twice a monthby rubbing them directly over your face and neck areas till you feel numb and the cube melts
•
Rose water ice cubes
This is an amazing technique to give an instant and immediate glow to your skin. Rosewater is excellent for managing the skin's pH balance and gets rid of the excess oil. It also soothes the skin and any other inflammations, leaving it hydrated and nourished.
• Mix 1 cup concentrated rose water with 1 cup water and add rose petals in ice cube tray
• For extra cooling, you can add peppermint orrose essential oil for an extra rosy glow
• Freeze and your rose ice cubes are ready!
• Alternatively, mix together1/2 cup rose water and 1/2 cup witch hazel. Stir well and put in a jar. Pour the mixture into each of the ice cube trays and allow to freeze
When you are ready for your facial, boil some water and pour into a large bowl. Place your face over the steaming bowl with a towel over your head for a maximum of five minutes. Next, grab one of your rose ice blocks and gently roll the ice all over your face and neck. Finish off with a spritz of rosewater.
MAKE YOUR OWN ROSE WATER
• Take rose petals preferably pink or red from your garden or even the flower market amd give them a good rinse
• Transfer into a large pot and add just enough water to cover all of the rose petals
• Cover and simmer for about 15 minutes or until the petals have lost their colour
• Remove the petals and transfer the liquid into a jar
• Pour into ice cube trays and stick them in the freezer
Green tea ice cubes
This popular beverage is rich in antioxidants and flavonoids that help reduce rashes and scars, fight ageing, kill bacteria, repair sun damage, and soothe irritated skin. This tea is also known for its antibacterial activity which is very helpful in treating acne or pimples, de-puffing and waking up tired eyes.
• Brew 2 green tea bags in boiling water for 2-3 minutes
• Avoid adding too much water to getconcentratedsolution
• Add 2-3 drops of tea tree essential oilin each section of the ice cube tray
• After it cools down, add your green tea and freeze for until solution becomes solid.
• Use every other day gently moving it on your skin, especially around the eye/neck areas
After using a cleanser, take one of the ice cubes and hold it on a pimple for a while. You will realise that it numbs the area. Depending on your pimple, you will see the results within a short period of time.
---------------------------------------------------------------------------
Cucumber and lemon ice-cubes
Cucumber and lemon are both excellent antioxidants that cleanse and brighten your skin naturally. When made to ice, this beauty cocktail will stimulate blood circulation and keep pimples, acne, redness at bay.
• Blend cucumberand juice of 1 lemon to make a puree.Add just enough water to blend for desired consistency. Mix until smooth
• Freeze overnight for maximum effect
• Before using, allowthe cube to sit for 30 seconds or so to soften slightly. Gently rub the cube over your face and neck, using the icy slush to exfoliate. You canlet it sit on your face for 5-10 minutes before rinsing
• Alternatively, soak cucumbers in a pitcher of water for a few hours preferably overnight for best results
• Freeze the cucumber waterintrays. You can add herbs like basil, mint or lemon juice for extra flavour
• Allow to freezeovernight and use as per convenience
Milk icecubes
• Milk is a well-known skin brightener and it also adds a healthy glow to the skin. Milk also helps remove sun-tan with few uses andremoves dead skin layer, makes skin pump and softer.Since you are using milk in form of ice cubes, it also tightens up your pores and freshen you up.
• Take 1 cup of full cream milk and add 1cup distilled water
• Pour in an ice-cube tray and let it freeze overnight
• Rub the cubes gently on your face,neck and open areas around neckand leave on your skin for half an hour
• Wash it off with clean, fresh water
 Alternatively, pour 1 cupmilk and 1 cup coconut milk. Mix it well andfreeze in an ice cube tray for 4-5 hours till it becomes solid
 Pour 1 cup rice water and add in 1 cup of milk in a glass jar. Mix and pour into ice cube trays. Freeze overnight
 Mix together milk and coconut water in equal quantities and pour into ice cube trays. Freeze overnight for better results
 To use, simply rub one ice cube directly on your face until it is all used up. Let it dry and sleep with it.

The author is international fame beauty expert and is called Herbal Queen of India