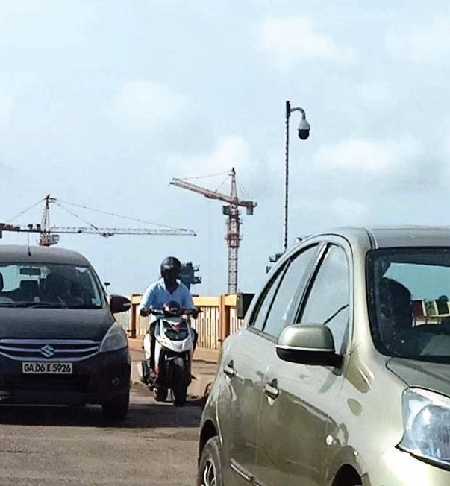 the goan I network
VASCO
The CCTV cameras installed on Zuari Bridge on Sunday morning seems to have had an immediate impact, as motorists fearful of stiff penalties for traffic violations were found moving on the bridge in a slow and disciplined manner on Monday morning.
Not only were motorists carefully following the 30 kmpl speed limit on the bridge, traffic was also streamlined on both sides of the bridge in sight of CCTV coverage, prompting motorists to demand similar CCTV cameras at various locations between Cortalim Circle and Agassaim bpass.
The installation of CCTV cameras on Zuari Bridge suddenly compelled traffic to move in an orderly and disciplined manner on the bridge on Monday morning.
Sources at the Vasco Traffic Cell appreciated the disciplined movement of traffic and claimed that the CCTV cameras had directly or indirectly contributed to the traffic discipline on the bridge and on both sides of the bridge.
"We are extremely happy that CCTV cameras have done half of our jobs. Many motorists have informed that cars have been travelling at 30 kmph speed as per traffic rules."
"We have been told that anyone breaking traffic rules on the bridge should face stringent action, which could include cancellation of the permit especially if the vehicle is a taxi," said the source.
Many motorists also appreciated the orderly movement of traffic on Zuari bridge.
"We have heard that the CCTV cameras have been installed at the instance of the transport department. We are thankful to the government, especially Transport Minister Mauvin Godinho for this move because it was frustrating to notice taxis always over speeding and forming multiple lanes and causing chaos. It is nice to be disciplined and this is a great move," said a motorist, Rajesh Raut.
Added another motorist Norman Fernandes: "We need more such CCTV cameras at various locations between Cortalim Circle and the Agassaim Bypass. These CCTV cameras will surely help curb rash traffic movement."
"I only request that offenders must be punished with the stringent penalties so that an example is set for others to maintain discipline," Fernandes added.