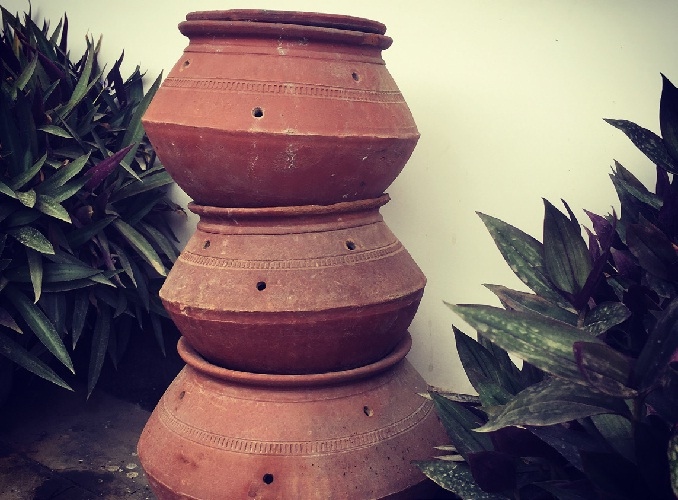 Turning waste in to compost or manure returns the nutrient value to soil, enriches moisture holding capacity, reduces associated GHG emissions, and related emissions associated with production of chemical fertilizers
In turn it has an economic advantage for city, as it reduces waste transport and handling burdens and once biodegradables are separated, sorting dry waste at material recovery facilities is more efficient and economically feasible
Composting method preferred for individual flats/houses is khamba composting technique which uses terracotta pots to hold organic waste and make compost
It is estimated that on an average a nuclear family of 4 people can make 3-4 kgs of compost every month
India generates about 160,000 metric tonnes of municipal solid waste every day and more than half of this is biodegradable. Unscientific management of this affects public health, economics and environment. It is mostly a burden for municipality in India, to be effectively managed. On a global context, disposal of this organic waste alone in 2014 was estimated to emit around 15,065 Gg CO2 eq GHG emissions from our country.
Do you know what happens to the waste that gets generated from our kitchen and gardens? Well, that's a question we all should be worried about, particularly after Solid Waste Management Rules of 2016, restricted cities from disposal of organic waste onto disposal sites. We all should be concerned if the biodegradable waste generated from our homes is getting treated at the processing facilities or getting disposed at disposal sites.
Managing organic waste at source not only helps country achieve various sustainable development goals along with economic benefits from production of compost at source itself, but also reduced waste burdens for municipalities and positively effects public health and aids economic growth.
Municipalities directly benefit in terms of reducing expenditures involved in transportation of waste, as well are land area required for its treatment or disposal. Surprisingly, according to The World Bank about 15 to 25% of total municipality's expenditure is on solid waste management in India. A study published by the Waste Management Journal highlighted that about 80-95% of this share is for activities concerned with waste collection and transportation.
Given the facts, imagine the amount of revenue citizens can save on municipality's expenses by just managing waste at source. Additionally, this can generate about 15,000 tonnes of compost every day which can reduce demand for chemical fertilizer, further reducing impacts on climate change and promoting organic farming.
Treating organic waste at source is simple, and can be done using different methods and technologies like composting or anaerobic digestion (Biogas generation) depending on the waste characteristics, quantity and frequency of generation. Generally, bulk waste generators like restaurants, hotels, and institutes etc. which have a continuous feed available can install infrastructure for anaerobic digestion of waste which have high returns on investment as biogas can be used to replace conventional fuel with gas for heating and treated liquid and digestate generated from the process can be used as manure. Composting has its own advantage and can be made at a smallest levels of nuclear family as well as communities.
Turning waste to compost or manure returns the nutrient value to soil, enriches moisture holding capacity, reduces associated GHG emissions, and related emissions associated with production of chemical fertilizers. In turn it has an economic advantage for city, as it reduces waste transport and handling burdens and once biodegradables are separated, sorting dry waste at material recovery facilities is more efficient and economically feasible. Urban residents get a chance to support green growth in their dwellings and colonies and strengthen the pillars of social and public health.
Generally composting method preferred for individual flats/houses is khamba composting technique which uses terracotta pots to hold organic waste and make compost. It is estimated that on an average a nuclear family of 4 people can make 3-4 kgs of compost every month.
The procedures to treat organics at source are simple and are increasingly becoming popular as sustainable choices. Recently, under the waste NAMA engagement city corporation of Panaji (CCP) and Varanasi Municipal Corporation (VMC) with GIZ and TERI have come out with guidance document on composting at home and community level to help spread awareness about the techniques and methodologies. The same is available on CCP and VMC websites.
Goa as a state, which generates around 766 TPD of waste, of which around 35% is from commercial and institutional sources has a potential to divert almost half of the waste quantity for composting or digestion at source. Thus, turning waste to a resource through citizen engagement.
Once the waste gets segregated and organic (biodegradable) waste gets managed at source, municipalities can even reduce transport frequencies and collect dedicated waste on dedicated days, further reducing municipalities burden to manage waste as well as move major portions of waste to circular economy loop.
If we talk about capital of Goa, Panaji generates about 28 tonnes of bio-degradable waste every day. CCP in partnership with residential colonies have set – up decentralised composting facilities for treating wet waste at source. Presently 1- 1.5 TPD of biodegradable waste is getting treated and composted in these composting facilities. The balance biodegradable waste collected from the residential units and commercial establishments is transported through the common bulk composting facilities established in the city.
The Corporation is further willing to partner with citizens for management of waste at source and is inviting suggestions and participation for making the city of Panaji a role model for sustainable waste management. Suggestions could be emailed at ccpwastemanagementcell@gmail.com .
Sourabh Manuja is a fellow at environment and waste management division in TERI, Nirbhay kumar Singh and Kuldeep Choudhary are consultants under waste NAMA project in TERI. Views expressed are personal. This article has inputs from Mr Sachin Ambe, Municipal Engineer, CCP