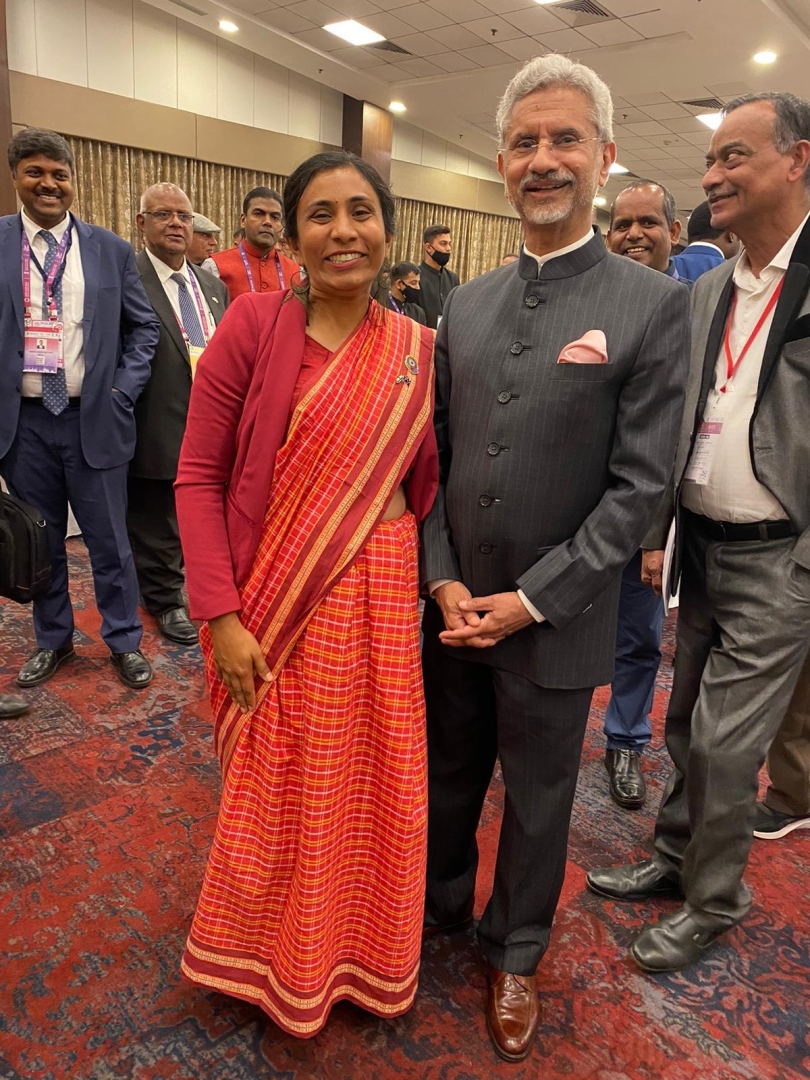 THE GOAN NETWORK | MELBOURNE
When Australia's Member of Parliament of Goan origin Zaneta Mascarenhas was the guest of honour at the Youth Pravasi Bharatiya Divas as part of the 17th Pravasi Bharatiya Divas in Indore on January 8, audiences were not just impressed by her address, but they were wowed by something else.
Mascarenhas was draped in a traditional Kunbi saree and her attire was not only appreciated by Union Minister Meenakshi Lekhi, ministers and other dignitaries but photos of her with the Goan saree were shared across the world.
The Pravasi Bharatiya Divas is a flagship event of the Government of India to provide an important platform to engage and connect with overseas Indians and to enable the diaspora to interact with each other.
The theme of this Pravasi Bharatiya Divas Convention is "Diaspora: Reliable partners for India's progress in Amrit Kaal". Over 3,500 diaspora members from nearly 70 different countries had registered for the PBD Convention.
In an exclusive interview with The Goan, Mascarenhas explained the origin of her Kunbi saree, the decision to wear the saree at the Pravasi Bharatiya Divas and the response that it generated.
THE GOAN: Why did you choose to wear the Kunbi saree during your trip to India?
ZANETA MASCARENHAS: Goan fashion designer Verma D'Mello generously gifted me the saree. Thanks to Verma for keeping this traditional weaving technique alive and sending me this saree. I hadn't had the chance to wear the Kunbi saree yet, and I thought that Pravasi Bharatiya Divas would be the perfect opportunity to wear it.
TG: What was the response from your fellow MPs and other Indian dignitaries regarding this unique Goan fabric?
ZM: I was really excited to wear the traditional saree. I was telling Union Minister Meenakshi Lekhi that I was going to wear the traditional Kunbi saree the next day. She immediately asked me if it was the chequered saree. I was so impressed with her saree knowledge. Other ministers appreciated the saree.
TG: How does the Goan Kunbi saree complement your Australian Goan identity?
ZM: The Goan Kunbi saree complements my Australian Goan identity well. Australia's traditional owners are Aboriginal and Torres Strait Islanders. They are known for having the world's oldest continuous culture. Practising traditional cultures is an important part of knowing who we are as humanity.
Verma D'Mello has intentionally and thoughtfully thought about using her position as a fashion designer to ensure that Kunbi and Gawda tribes can continue to practice this traditional weaving technique alive.
TG: Photos of you wearing the Kunbi saree are being shared across the world. This will give a huge boost to this traditional Goan fabric. What other traditional Goan culture would you also like to promote?
ZM: There are some simple things, like making a Christmas Star with bamboo and tissue paper. And other things that have a strong following, like the building of epic nativity scenes at Christmas.
One thing that I loved doing before my wedding ceremony was the Roce ceremony. My Uncle Maxie understood this tradition well. This is where coconut milk is poured onto the bride and groom to symbolise washing away sins.