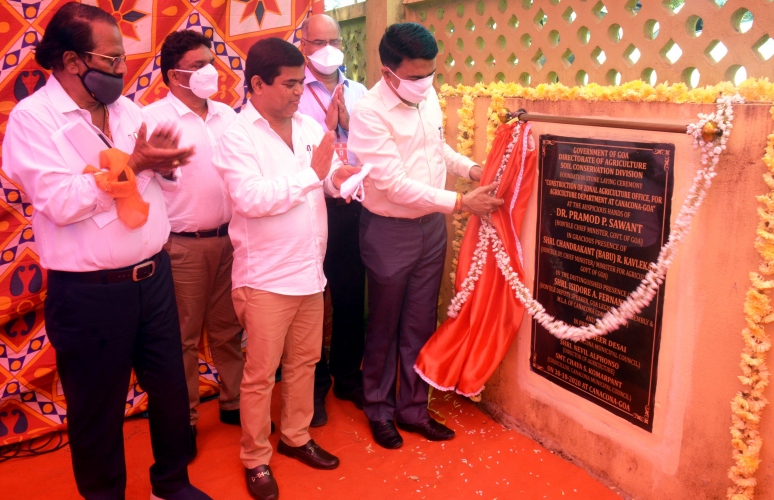 CANACONA
Chief Minister Pramod Sawant on Friday said the State government is aiming to get every farmer to earn an income of a minimum of Rs 3 lakh per year, which is possible with integrated farming.
Sawant was speaking after laying the foundation for the Krishi Ghar at Canacona in presence of Deputy Chief Minister and Agriculture Minister Chandrakant Kavlekar, Deputy Speaker and Canacona MLA Isidore Fernandes, Cancona Municipal Council Chairperson Nitu Dessai, former MLA Vijay Pai Khot, Director of Agriculture Nevil Alphonso, Goa State Horticulture Corporation Managing Director Sandip Phaldessai, Zonal Agriculture Officer Kirtiraj Gaonkar and others.
"The government is concentrating on integrated farming to supplement the income of farmers. Farmers or agriculturists should go in for agriculture, farming, dairy business, horticulture, floriculture together to make integrated farming. The government is aiming to bring the income of every farmer to a minimum of Rs 3 lakh per year and it is possible with integrated farming," he said.
"The government is ever ready to extend a helping hand to economically weaker sections through various programmes and projects. Not a single government project or programme will halt due to financial reason."
"Every Goan has the capacity to come forward and take Goa to the next level. They only need skill development and motivation," Dr Sawant said.
Kavlekar said the Krishi Ghar was a long-pending demand of Canconkars as farmers from every nook and corner of Cancona taluka and neighbouring villages produce vegetables on a large scale and needed the right place for marketing their produce.
Stating that the agriculture department has a vision to take Goan agriculture to the next level, Kavlekar said the government is taking care of farmers and advised them to take benefit of various schemes and subsidies.
"The government has decided to sell cashew saplings at a reduced rate of Rs 15 from the present rate of Rs 60 and all 60,000 farmers -- 20,000 farmers with Krishi cards and 40,000 without Krishi cards -- will benefit," he added.
Dy Speaker and Canacona MLA Isidore Fernandes said the Krishi Ghar had been planned over 24 years ago, but had been in cold storage until it finally became a reality.
"I appeal to the chief minister to allow only Goan farmers to make use of this agriculture yard, to sell or to store their farm produce," Fernandes added.