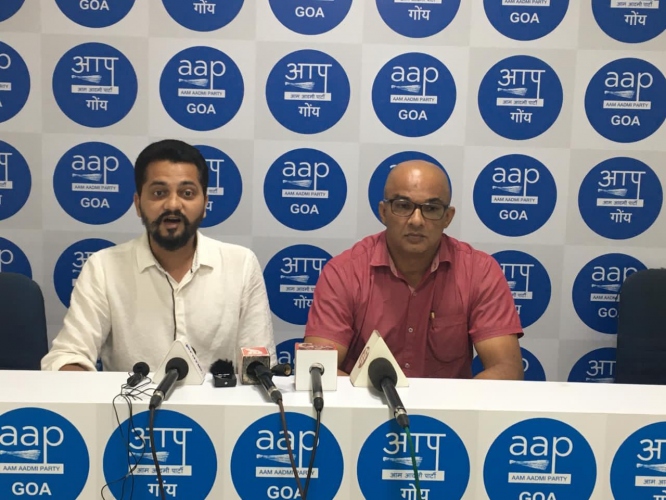 PANAJI
Aam Aadmi Party (AAP) lamented that Pramod Sawant despite being the chief minister of Goa has no time for the people of Goa or to deal with the problems faced by them as can be seen by the fact that he visited Melauli just on Thursday even though the villagers have been agitating for months.
"It is very interesting to note that the Chief Minister rushed to help and support outsiders like Adani but has no time for the people of Goa who made him their chief minister," said Surel Tilve while pointing out that when it comes to matters concerning Goa and Goans, Sawant plays the "blame game".
The people of Melauli have been objecting to setting up the IIT in their village for months now and are objecting to this project on various ground.
"We have been witnessing midnight protests against coal and double-tracking. Can the Chief Minister tell us how long it will take for him to listen to and meet the people on this issue," Tilve asked.
"The agitators are proving with documents that the double-tracking is being done only to benefit Adani and has no benefit whatsoever for Goa or Goans but will only help the economy of neighbouring Maharashtra and Karnataka," he said. "A few weeks back Sawant visited the Prime Minister to discuss Goan issues. Can he tell Goans what was discussed?"
AAP spokesperson Sandesh Telekar pointed out that even though thousands of Goans have been protesting the double-tracking of the railway tracks for several months, the Chief Minister has not yet commented on the matter.
"Goans have fought hard to retain their own identity and this cannot be compromised at any cost," said Telekar who also asserted that Goans have to decide on projects that can be taken up in Goa and not politicians sitting in Delhi.
He pointed out that the very survival of Goa is under threat due to diversion of waters of Mhadei river which is being done by Karnataka with tacit support from the Centre. He said while pointing out that AAP had already brought this to the notice of the Chief Minister in a memorandum issued to him.