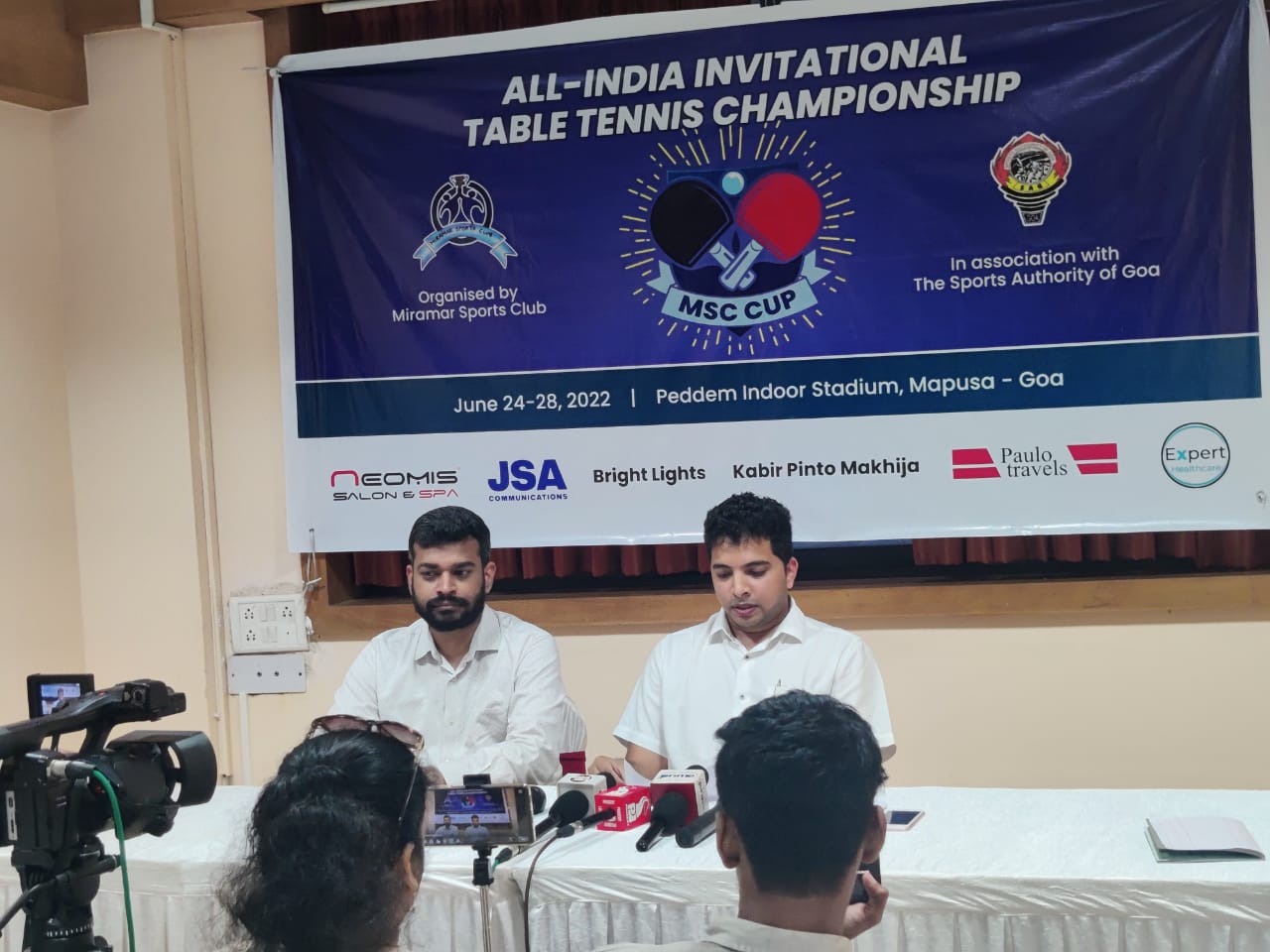 Photo Credits: The Goan
MARGAO
The 5th MSC Cup, an annual All-India invitational table tennis tournament organised by Miramar Sports Club, in association with the Sports Authority of Goa will get underway at the Multipurpose stadium, Peddem, Mapusa from Friday.
The tournament will feature India's top table tennis stars, such as reigning national doubles champion Sourav Saha and former national champion Arjun Ghosh, besides Rakshit Barigdad, Karnataka youth and men's number one player, who will compete alongside top Goa players such as Dheeraj Rai, Anshuman Agarwal (national medal winner), Noel Noronha, Prutha Parrikar and several others.
The tournament will have a total prize purse of Rs 1 lakh, announced Joel Andrade, club president and Corporation of City of Panaji councillor, at a press conference held in a city hotel. "The tournament includes five different categories - Open Team, Open Singles, Open Doubles, Open U-15 Team and Open U-15 Singles. Matches will begin at 10 am in the morning and conclude at 7 pm," said Joel, in the presence of Myron Pereira, the club treasurer.
"I have been coming to Goa to participate in this tournament for many years. Last two years, the tournament was not held due to Covid-19 pandemic, and I am happy to be back this year. Progress made by Goa in table tennis is good, standard of game is steadily rising and players like Wesley Do Rosario are making a mark at the national stage. Miramar Sports Club has organised this tournament in a wonderful manner in the past, providing good hospitality and I am looking forward to this year's edition," stated Arjun Ghosh, a former national champion.
Sourav Saha, reigning national doubles champion echoed similar sentiments. "Many of my colleagues have participated in this tournament in previous years and though I have visited Goa three times, this is the first time I will be participating. Tournaments like these give exposure to many youngsters and will have motivating effect on local budding players. I am happy to see Goa bloom in table tennis and I wish the organisers success," said Sourav, the young paddler from Haryana, who partnered Wesley Do Rosario to lift the national doubles title earlier this year.
The finals will be held on Tuesday, June 28 at 3.30 pm.