A major accident at Rawanfond-Margao left the driver of a Maruti Suzuki car dead,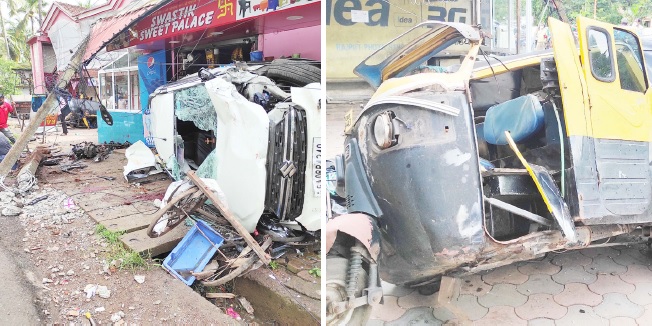 MARGAO
A major accident at Rawanfond-Margao left the driver of a Maruti Suzuki car dead, while the three occupants of the ill-fated vehicle escaped with injures after the speeding car rammed against a rickshaw, three scooters and an electric pole before crashing in front of a sweet mart and tea shop on Tuesday morning.
Fortunately, there was not much movement of people near the otherwise busy spot at the time of the accident on early Tuesday morning. Margao police said the accident occurred at around 8.30 am in front of the IIIrd gate of the MES Military camp,
Rawanfond.
While the Maruti driver, Vernon Fernandes, aged 49 years, a seaman by occupation died on the spot, the remaining three occupants, Venia, wife of the deceased, an advocate by profession, minor son of 10-years, Denvor and brother of the deceased, Venancio Fernandes (55) escaped with injuries and were rushed to the Hospicio hospital, Margao.
Margao Police said the deceased, a resident of Seraulim, but a native of Sao Jose de Areal, was proceeding to Sao Jose de Areal when the accident occurred.
Sources say the deceased driver apparently lost control of the vehicle near the speed breaker before the vehicle first rammed against an auto rickshaw and three scooters parked at the accident spot. The vehicle then hit an electric pole before the vehicle crashed in front of the tea stall and the sweet mart. The impact of the accident was such that the electric pole broke into two and the top part of the auto rickshaw blown off.
Electricity Assistant engineer, Mamata told the media that the area had to go without power supply after the transformer was switched off after the accident. She said an electric pole and two conductors were damaged in the incident.
An owner of a scooter, which was damaged in the accident, Narayan Rajput said he had just parked his two-wheeler outside his studio before it was hit by the ill-fated vehicle.