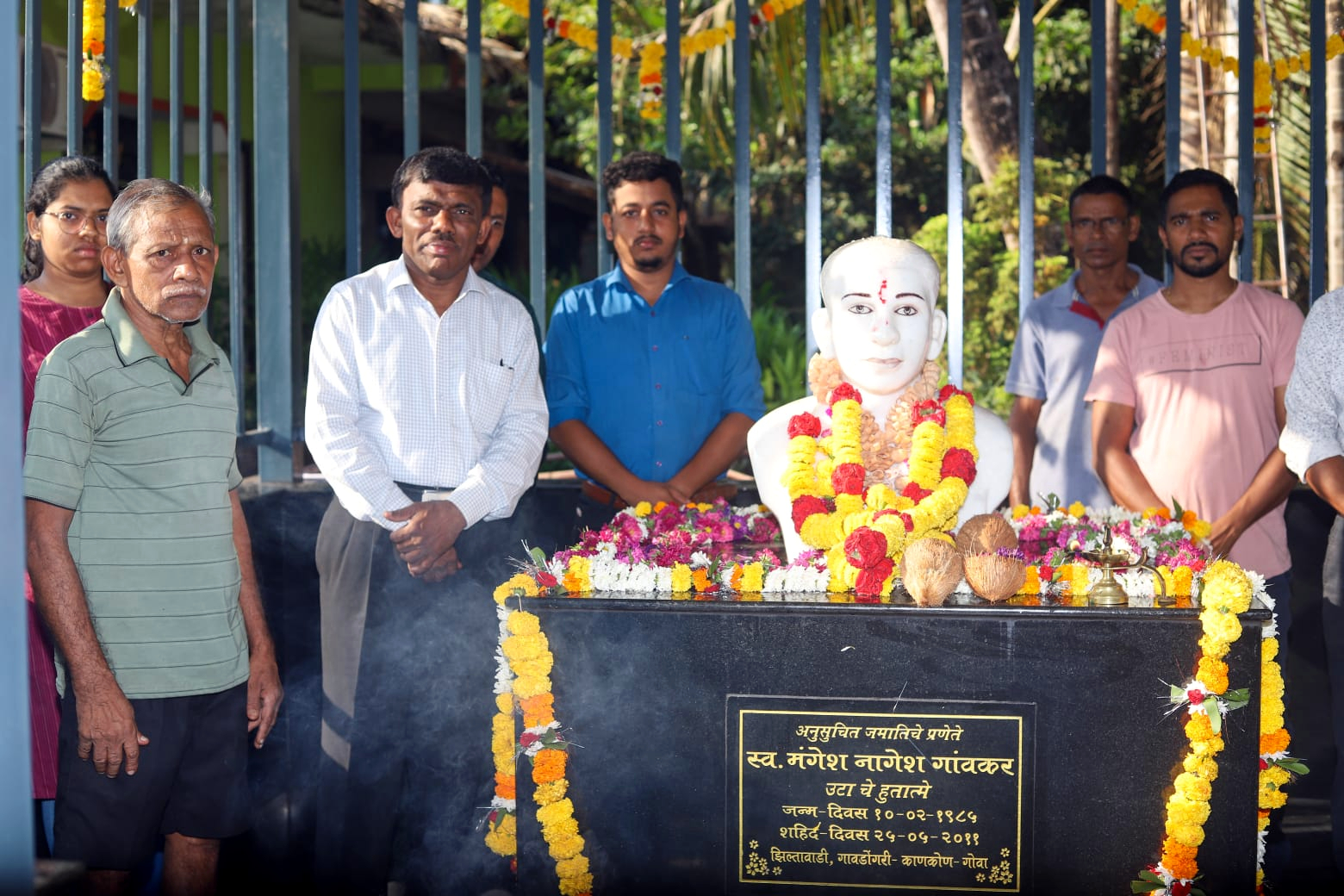 CANACONA
A day after Art and Culture Minister Govind Gaude paid tributes to the martyrs of the 2011 Balli riots in Canacona, Speaker and Canacona MLA Ramesh Tawadkar along with his associations, Adarsh Yuva Sangh and Shree Balram Education Society, observed May 25 as 'Sankalp Din' in Canacona.
Tawadkar visited the residence of late Manguesh Gaonkar at Ziltawadi-Gaondongrim and in the presence of Gaonkar's family, garlanded the bust of Manguesh.
"His (Manguesh) sacrifices for the ST (Scheduled Tribes) movement will always be remembered and honoured. The bravery and dedication demonstrated by Manguesh Gaonkar and Dilip Velip are truly admirable. They gave their lives for a noble cause, standing up for the rights and aspirations of the ST community," said Tawadkar.
Tawadkar later attended a programme at the South Goa BJP office, where the BJP's ST Morcha also paid rich tributes to late Manguesh Gaonkar of Ziltawadi-Gaondongrim and late Dilip Velip of Morpila-Quepem, who were killed in the 2011 Balli agitation demanding constitutional rights for the ST community.
Rajya Sabha MP Vinay Tendulkar, Former dy chief Minister Babu Kavlekar, ST Morcha Goa Pradesh President Prabhakar Gaonkar, and ST Morcha Goa office-bearers were present at the function.
Back in Canacona, the Adarsh Yuva Sangh-Gaondongrim-Khotigao and Shree Balram Education Society, Amone-Poinguinim hosted a programme at Adarshgram in Amone-Poinguinim to celebrate 'Sankalp Din'.
Tawadkar said, "Let us remember the unwavering dedication of the brave souls late Manguesh Gaonkar and Late Dilip Velip, who made the ultimate sacrifice for the ST movement and let us be inspired by their courage. Together, we can uphold unity, justice, and equality in their honour."
Manguesh was an activist and associate of then Poinguinim MLA Ramesh Tawadkar, who led several ST youth under Adarsh Yuva Sangh in pursuit of the ST demands.
Incidentally, UTAA leaders, Art & Culture Minister Govind Gaude, ex-minister Prakash Velip, Gomantak Gaud Maratha Samaj President Vishwas Gaude, ex-MLA Vasudev Meng Gaonkar, had indirectly questioned Tawadkar for ignoring the sacrifices of the two ST youth in 2011 Balli agitation by installing statues of the two ST martyrs on Wednesday.
The Art and Culture department had also observed May 25 (Martyrdom Day of the two ST youth) as 'Prerna Din' at Ravindra Bhavan, Margao.