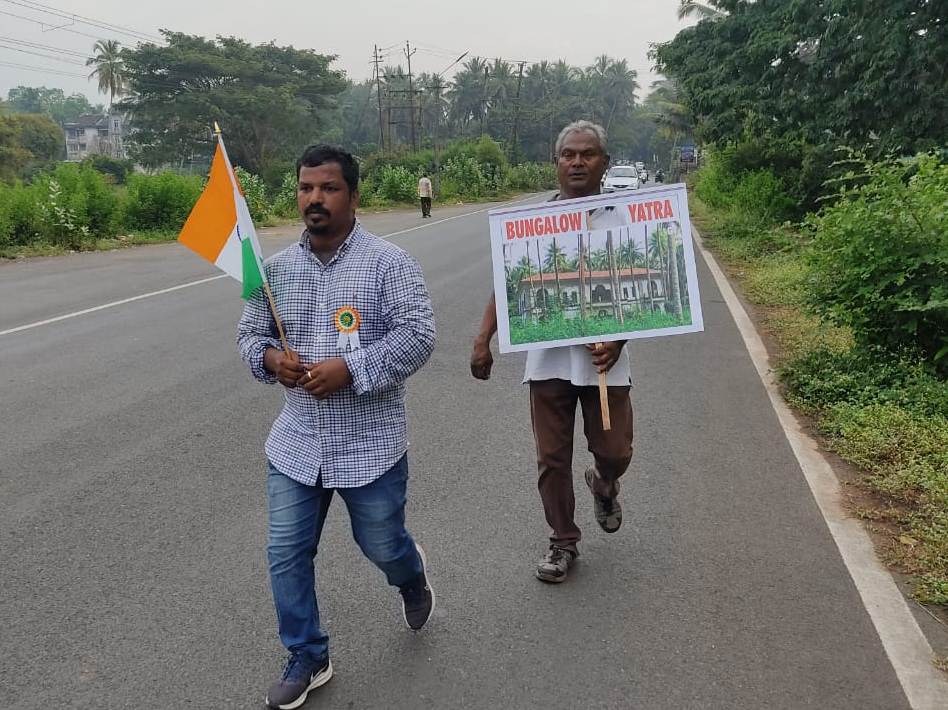 MARGAO
The historic Lohia Chowk at Assolna, which had played host to nationalist Dr Ram Manohar Lohia and his friend from the village, Dr Juliao Menezes, on Thursday saw social activist Anthony D'Silva and Glen Cabral launching their yatra to Old Goa to spread awareness over the illegal bungalow in the heritage area.
The yatra on foot will take place over the next six days before it culminates at Old Goa before the feast of Patron Saint of Goa, St Francis Xavier.
Carrying the Indian Tricolour and a placard on the illegal bungalow, the duo kick-started the yatra from the Lohia Chowk on Thursday evening, as they vowed to continue the movement for the demolition of the illegal bungalow till the last. "This is a historic place, where Ram Manohar Lohia had come to the residence of our villager Juliao Menezes before they gave a call for the liberation of Goa. The revolution for Goa's Liberation had started from Assolna. We have decided to start our yatra from his historic place to seek justice and ensure the demolition of the bungalow," Anthony said.
Saying the duo will walk on foot covering the villages, Anthony has urged the villagers along the way, irrespective of caste and creed to lend their support. "We respect the courts, but at the same time, we want to keep our voice running as part of our duty. We are not here to influence anyone or anything. Justice delayed is justice denied", he added.
The duo has appealed to the people of Goa to take out their own yatras from their respective villages and culminate at Old Goa before the feast of St Francis Xavier.