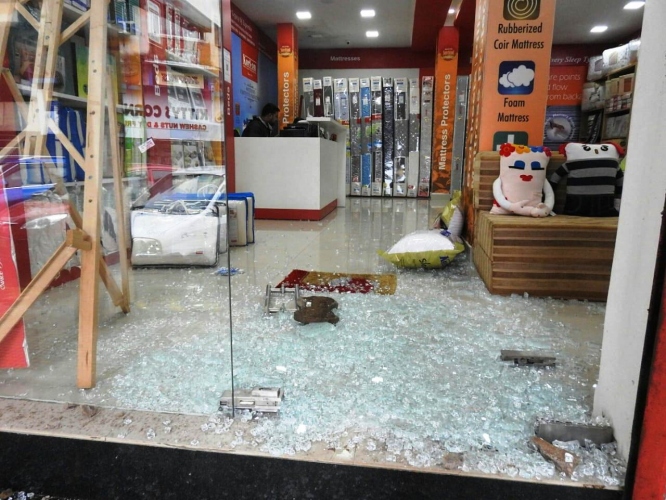 WHEN THE COMMERCIAL
CAPITAL WAS SLEEPING
1)
The printing press office of David & Co was burgled after the burglars bent the shutters of the office and broke open the front glass to effect entry inside
2)
The burglars managed to open an adjoining shop by again bending the shutters, but could not make good with anything after they realized that the shop contained only apple crates
3)
The burglars also broke into into a mattress shop near the Canara Bank right on the main road, just meters away from the Margao Residency by bending the shutter
------------------------------------------------------------------------
------------------------------------------------------------------------
MARGAO: Security arrangements in the commercial capital came under sharp focus once again after burglars struck the city at will, targetting a number of shops and establishments on Sunday night.
The incident comes against the backdrop of the daylight murder of a young-city jeweller Swapnil Walke and the promise made by the police top brass to intensify patrolling in the commercial capital to keep burglars and miscreants at bay.
Though the burglars could not lay their hands on major booty, the incident only showed the susceptibility of the city to burglaries, which proves yet again that burglars can strike at will.
In fact, residents and businessmen along the Erasmo Road woke up to hear the shocking news of thieves targeting a couple of shops in the area. The printing press office of David & Co was burgled bending the shutters of the office and breaking open the front glass to effect entry inside by the burglars. David & Co owner Lawrence Coutinho told the media that the thieves managed to lift goods, including a mobile phone, a PC and a printer from the press. The loss is being assessed.
The burglars managed to open an adjoining shop by again bending the shutters, but could not make good with anything after they realized that the shop contained only apple crates. An abortive attempt was also made to open a workshop as evident by the damage done to the shutter.
A similar modus operandi was adopted by the burglars to effect entry into a mattress shop near the Canara Bank right on the main road, just meters away from the Margao Residency. After bending the shutter, the burglars effected entry breaking open the front glass.
The thieves tried to bend the shutter of an adjoining stationary shop, indicating that they literally had a field day in executing their plan.
When the citizens called up the Margao police, a police officer told a citizen that they are aware of the burglary at the David & Co press office, saying the burglars had made good their escape after seeing a police night patrol party.
As the news spread of the burglaries and other failed attempts spread across the commercial capital, the police deployed a posse of policemen near the mattress shop, including a policeman armed with machine gun.
Director General of Police (DGP) Mukesh Kumar Meena, during his visit to the Margao district headquarters had promised to beef up the security arrangements, including patrolling in the commercial capital. The police has made its armed presence in the market area, ostensibly to extend security cover to the jewellers and traders, in the wake of Swapnil Walke cold-blooded murder, but an effective night patrolling mechanism is still yet to fall in place.