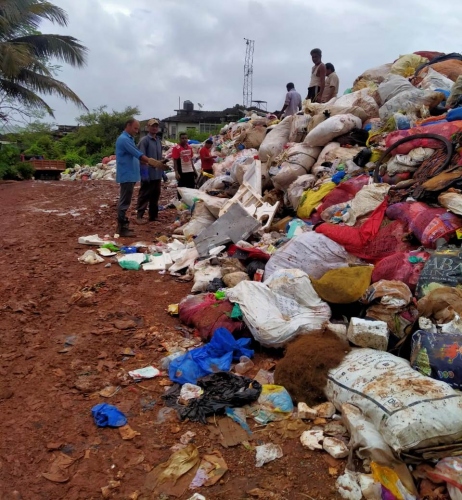 MARGAO
Non-baling of tonnes of dry waste generated in the commercial capital has not only resulted in a waste mound at Sonsodo, but the situation has begun to bleed the Margao civic body.
Baling of the dry waste in the city has come to a stop for the last 10 days due to an electrical fault at Sonsodo. While the power department has stayed away from rectifying the fault on the plea that it has to be rectified by the civic body, attempts made by the municipality to rope in an electrician has come a cropper after the contractor has insisted on payment of his previous bills.
The end result being the daily dry waste of the last 10-12 days is just being dumped at Sonsodo for want of baling because of lack of power supply. Incidentally, the Margao municipality has now suddenly realized that it has run short of the plastic bags required to stack the dry waste from
the city.
In the past, the civic body used to reuse the plastic bags after dumping the dry waste at Sonsodo. But, with baling coming to a screeching halt for the last 10 days, the MMC workers have been left with no option but to leave the plastic bags along with the waste at Sonsodo.
Resultantly, the civic body has begun to feel the shortage of plastic bags and has placed an order for additional bags. If officials are to be believed, the civic body required around 1500 plastic bags per day to stack the dry waste.
And, given that each plastic bag costs around Rs 13 in the market, the civic body is spending close to Rs 20,000 per day on the plastic bags just because baling of dry waste has come to a halt.
That's not all. As the plastic bags containing the dry waste have assumed the proportion of a huge mound at Sonsodo, with the waste sliding down on the road leading to the waste treatment plant, the MMC has further incurred an expenditure on the JCB deployed to push the dry waste and keep the road clear of the waste.
Sources in the know informed that the electrician has sent a message to the civic body to first clear his previous payments before he can take up the work of rectifying the fault. It is learnt that the civic body owes around Rs 68,000 to the electrical contractor, who has insisted that he will take up the work on the condition his previous payment is cleared.
Left with no option, officials have left the matter to be resolved by the Chief Officer Agnelo Fernandes and municipal engineer Diniz D'Mello since it involves payment of dues to the contractor.
An official has warned that the situation may further aggravate in the event the civic body does not resolve the imbroglio on priority since any delay will further bleed the civic body on purchase of plastic bags and deployment of JCB.