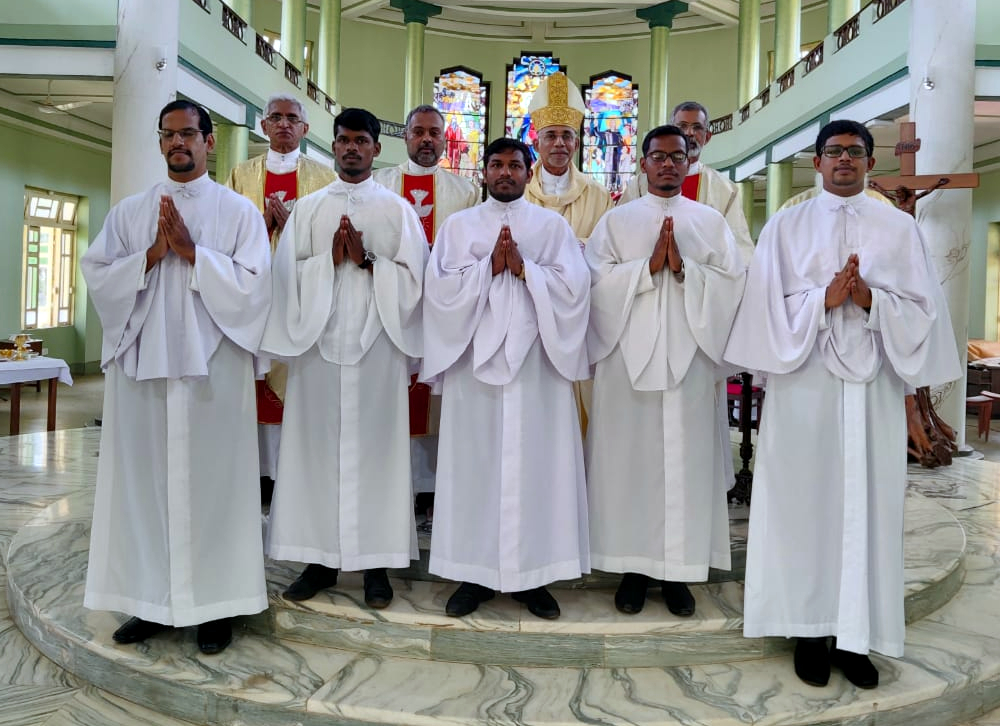 PANAJI
Cardinal Elect Archbishop Filipe Neri Ferrao has exhorted the members of the Pilar Society to be beacons to revive the missionary dynamism in the archdiocese of Goa and Daman.
He was speaking during the inauguration of the New Seminary Year 2022-23 of the Pilar Seminary.
While presiding at the inaugural Eucharistic celebration, the prelate reflected on the three important moments in the journey of seminary formation.
He said going up the mountain represents the efforts, hard work and sacrifices put in formation and the attitude to never give up, while staying on the mountain represents our experience of Christ in prayer, silence, self-denial and all the values of the gospels.
Coming down the mountain represents sharing the light of Christ in our day-to-day life, Cardinal Elect Ferrao added.
At the end of the Eucharist, the Professors of the Pilar Theological Seminary took the oath of fidelity. On this occasion, five seminarians, Savio D'Souza, Randal D'Souza, Alok Minj, Lelwin Pereira and Denzyl Pereira received the ministries of Acolyte from the archbishop.
Later, at a special inaugural programme, Fr Santosh Mendonca, the newly appointed Director of Studies at the Pilar Theological Seminary, delivered the Lectio Brevis, the first lecture for the new academic year.
The Lectio Brevis was on "The Voices of Earth and Humanity as Yahweh's agents in Isaiah 44: 21-28," an ecological hermeneutic inquiry. Fr Victor Rebello, a professor at the Pilar Theological Seminary, moderated the session.
During this programme, the Annual Magazine 'Euntes Docete' was released by the Cardinal Elect Ferrao and the Handbook for the year 2022-23 was also released by the Superior General.
Earlier in the morning, Cardinal Elect Ferrao visited the aged and sick members of the Society in the Pilar Monastery Church.
On this occasion, Superior General Fr Sebastio Mascarenhas congratulated the cardinal elect on the occasion of his election to be a close collaborator with the Pope and acknowledged his missionary personality.
The cardinal elect further appreciated the senior members for their spirituality, who by their prayers, sufferings and sickness contributed to the missionary endeavour.