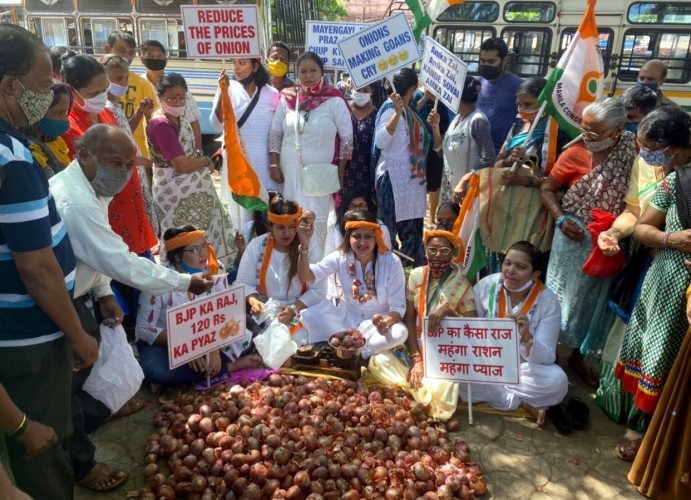 Photo Credits: Vikram Nayak
VASCO
Accusing the BJP of fooling the people, GPCC Mahila Congress President Pratima Coutinho said while the BJP offered Rs 2,000 as schemes to housewives and senior citizens, they were looting the public by hiking the prices of onions and other essential commodities.
Coutinho was speaking to reporters during a protest programme in Vasco where GPCC Mahila Congress members sold onions to Vascokars at Rs 25 a kilo outside the Vasco fish market to mock the BJP government for high price rise of onions in Goa.
"The BJP has no capacity to offer onions at cheaper rates to Goans and this is why we began with the initiative around a fortnight ago in Margao and took the programme to different parts of Goa."
"We are offering onions at Rs 25 a kilo only to poor people because the BJP announced that onions would be supplied through ration societies, but it has not been implemented."
"While the BJP announced initially that 3 kg of onions would be given per person at subsidised rates, they later reduced the quantity to 1 kg per person and yet, they have not begun the process and ration societies have also refused to give onions while claiming it to be rotten," said Coutinho.
Taking a dig at the Goa BJP Mahila Morcha, Coutinho said the Goa BJP Mahila Morcha president had said dishes without onions were tastier.
"We want to visit her house and see how dishes are made without onions and take recipes from her. We want to ask her why she had not told their central leader Smriti Irani the same thing when she had come on the roads to protest against the rising onion prices," said Coutinho.