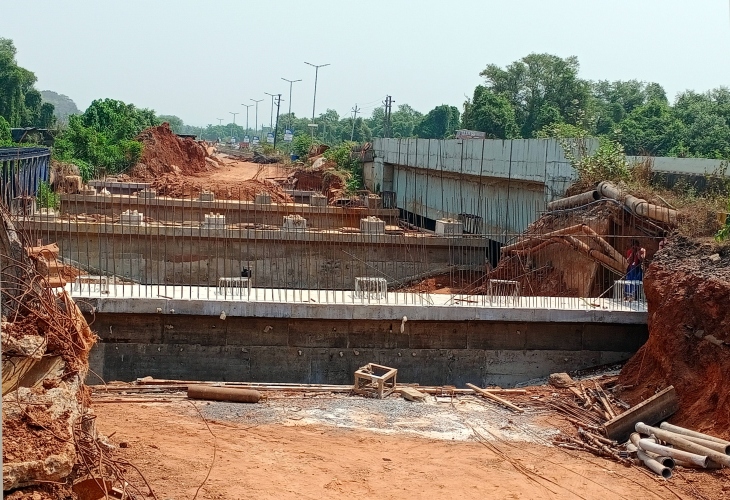 Photo Credits: Umesh Zarmekar
MAPUSA
Work to replace the piped culvert on the river with a box type at Gaunsavaddo-Mapusa is expected to be completed by May, as part of efforts to desilt/clear the piped culvert across Mapusa's Tar River.
"Work to remove the pipes and replace them with concrete boxes is underway. The bridge will be completed by next month and will be open to transport. The new bridge will also reduce pollution in the river," said Mapusa MLA Joshua D'Souza.
The piped culvert had been constructed in 1980 during work on the national highway. However over the years, silt had accumulated in the pipes which blocked the free flow of water and as a result, Gaunsavaddo experienced flooding.
The replacement of the pipe-bridge with a concrete one was a long pending issue which was finally taken up by highway authorities last year.
The Mapusa Municipal Council (MMC) had been pursuing the matter of desilting of the river and replacement of the piped culvert with authorities concerned for a long time.
Locals had also been raising the issue of desilting the river, which has become one big sewer, as all waste water of restaurants in the market and some residences too empty into the river, thereby polluting it.
The issue of pollution of water at Tar River came up every year as the annual Ganesh immersion took place at the site.
The Captain of Ports (CoP) officials had said it was impossible to carry out dredging of the river as there was no possibility of shift the machinery into the river on account of the piped culvert.
Following persistent demands, the State government took advantage of the road widening work along the highway and took up work on the new bridge.
The total length of the concrete bridge is 57 metres while the width is 17.5 metres, which includes the service roads. The new bridge and the service roads will also ease traffic flow to Bastora and Mapusa.