Roadmap of agriculture released; 12 FPOs to be started in all the talukas od State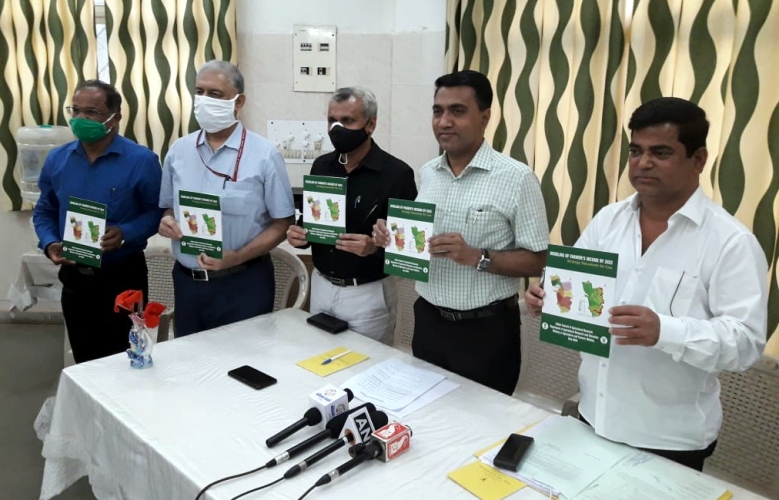 Photo Credits: Manuel Vaz
OLD GOA
Stating that the contribution of agricultural sector to the State's GDP is less than 5%, Chief Minister Pramod Sawant announced ambitious plans to double the income of the farmers by 2022.
"We intend to double the income of the farmers by 2022. The ICAR has already published a book in this regard and based on that, we have prepared the roadmap in which we have included agriculture, horticulture, veterinary, fisheries and industries departments," Sawant stated, while speaking at a function to release the roadmap of agriculture for the State, at ICAR complex-Old Goa on Tuesday.
"The net profit of the farmers should be at least Rs 3 lakh per annum, if farming has to be a viable option. Only then will we be able to attract new farmers," he said.
"In Goa, cashew, rice, jackfruit pineapple, etc. are produced organically. But there is lack of marketing, branding but with the help of ICAR, the departments are sansitised to focus on branding and marketing of these products and to improve the productivity," Sawant stated while adding that the focus will also be on starting food processing and agro processing units under Krishi Vigyan Kendras in North and South Goa.
"Micro irrigation projects will be taken up under Pradhan Mantri Kisan Nidhi Yojana in which ICAR will provide its expertise in association with the State Agriculture Department." Sawant stated.
"We intend to take benefits of all central government schemes under PM's Atmanirbhar Bharat scheme and our focus will be to ensure 100 percent implementation of the schemes in the State," he said.
"Twelve Farmers Producing Organisations (FPOs) will be started in all 12 talukas. Under central criteria, there has to be 500 farmers in each FPO but for Goa, we have sought for relaxation in the criteria to include only 100 farmers," the chief minister said.
"The roadmap also lays focus on processing, packaging, post harvesting, handling including imparting training to farmers," he added.
"Focus will also be on increasing production and productivity of Goan crops including important crops like paddy, cashew nut and coconut. We will focus on branding Goan products. For instance, ICAR has already produced a candy from the cashew apple. We intend to publish the Brand of Goa," Sawant informed.
Stating that integrated farming is a must, Sawant said that the ICAR will provide full support to the State government in this regard.
"Earlier, the various departments would not coordinate but now they will work in coordination with each other. They will also take help of the National Cashew Board and the National Coconut Board," he stated.
Sawant also said that a monthly review will be done to check the progress made. "National level workshops will also be conducted on agriculture in the State," he said.
Agriculture minister Chandrakant Babu Kavlekar, Agriculture and Animal Husbandry Secretary Kuldeep Singh and others were present at the function.