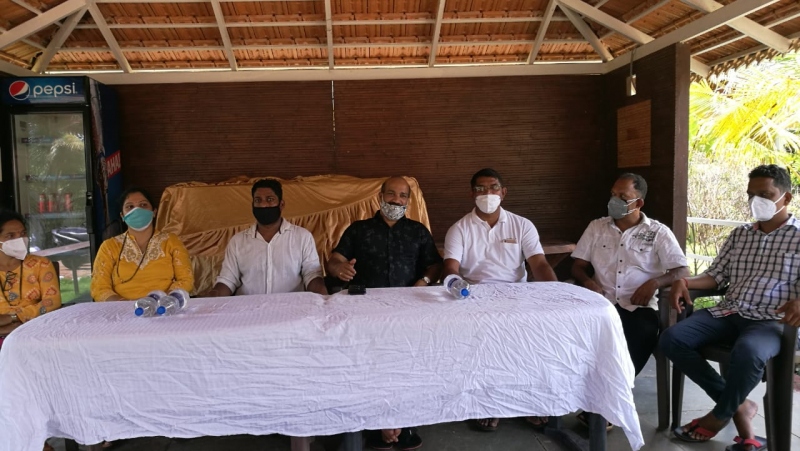 CANACONA
Stating that neither Canacona Municipal Council administration nor the BJP government is doing anything to bring developments nor supporting the ruling panel, the CMC ruling panel threatened to pull out as BJP panel if things do not improve within the next two months.
Addressing a news conference on Sunday the ruling panel cried foul stating neither Chief Officer nor municipal engineer are cooperating with the council to bring the necessary development and changes in the CMC.
"We find it difficult to run the council in spite of some of us erstwhile Congressmen joining together to form a BJP panel and formed a BJP council in Canacona. The Chief Officer is not doing enough nor the municipal engineer is doing estimates as per resolutions passed by the council."
"We fail to understand if the Chief Officer has instructions not to perform and stop us from bringing the change what we have assured to bring in the council. Time and again, we said we are a BJP council, and it seems the government is doing something else. The municipal engineer instead of preparing estimates for all the 12 wards, ignores our resolutions and prepares an estimate of a particular ward. We know elections are due in next few months, and considering the attitude of the BJP towards us, we may be forced to rethink on the stand, on the forthcoming assembly elections," Chairperson Simon Rebello stated.
Going a step ahead, Chaudi councillor Ramakant Naikgaunkar stated, "Someone seems to be unhappy with us coming together to form a BJP council in Canacona. And I feel, the same forces are trying to break our panel and form an anti-BJP council in Canacona. There are three BJP leaders in Canacona and all work in different directions. Even whenever, any state leader comes and patch up these differences, all three head in different directions, even before the leader crosses Karmalghat."
"I have worked for BJP for the last 15 years and I have a claim for BJP ticket the forthcoming assembly elections, as people in Canacona especially BJP wants a new face other than the three BJP leaders MLA Isidore Fernandes, former minister Ramesh Tawadkar and ex-Canacona MLA Vijay Poi Khot. The non-cooperation of municipal administration is a clear indication that the government is pressuring the ruling panel not to perform.
"Even, MLA Isidore Fernandes is not doing anything to bring any development in CMC. Our MLA, despite approaching him several times by our Chairperson ignores our panel, nor bring in any sanctions for our proposed works. We, 7 councillors are and will be together till the end of this tenure, and if this situation continues, we are going to take a stand against BJP in the next two months," he added.
Devabhag-Palolem councillor Sara Naik Desai, stating she is contemplating approaching the court as the administration is not taking any action on a resolution to hold an inquiry into a scam committed by the previous chairperson in Sawantwada ward 9, said that there is no point in remaining with as a BJP panel anymore, instead take a stand in forthcoming assembly elections.
Palolem councillor Laxuman Pagui said that in spite of his ward being a world tourism front, it is kept without any improvement for the past 15 years. "BJP is giving posts to people who had worked against the party in the past, and the ruling panel will take a stand in the two months if govt is not improving its stand on CMC," he said.
Deputy Chairperson Amita Pagui, Ponsulem Councillor Narcisco (Nadin) Fernandes and Rajbagh-Tarir councillor Gandesh Madgavkar were also present at the media briefing.