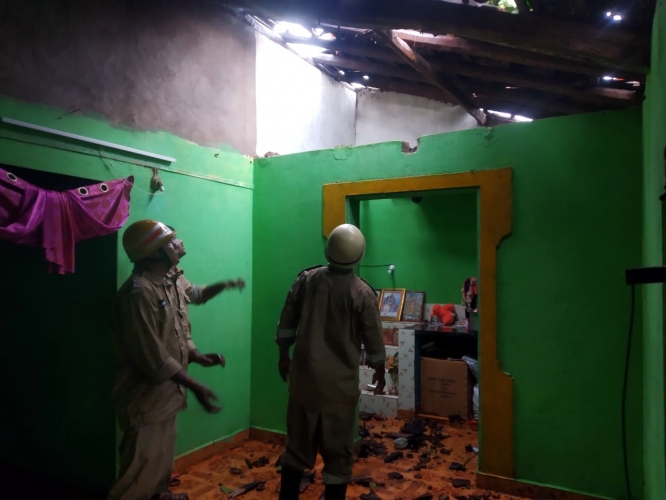 VALPOI
One person was injured while about 16 houses and several plantations were damaged when cyclonic winds struck Kankire and Guleli villages of Sattari early Monday evening. The damages to the houses and crops have been estimated at Rs 30 lakh.
According to reports, cyclonic winds struck Kankire and Guleli between 2.30 pm and 3 pm, damaging several houses in the two places.
In some houses, roof sheets were blown away and roof tiles in other houses came crashing down.
Anil Palkar of Kankire got injured when roof tiles fell on him. He was shifted to the Valpoi Community Health Centre in a 108 ambulance and was later sent home after treatment.
In Kankire, a number of houses were damaged after trees got uprooted and came crashing down.
The Valpoi fire services attended to a number of calls to clear the debris from the damaged houses and to assess the damages.
Firefighters were seen at work in the affected places till late night and Fire Services Officer Santosh Gawas said work will continue on Tuesday morning.
Fire officials said the damages to the houses were estimated at Rs 15 lakh.
Sattari Zonal Agriculture Officer Vishwanath Gawas also rushed to the spot to take stock of damages to plantations and cultivations.
Speaking to reporters, Gawas said the damages to crops were also estimated at Rs 15 lakh.
"One farmer, Prabhakar Gaonkar, sustained considerable losses after 60 areca nut trees, 25 coconut trees and hundreds of banana plants were destroyed by the cyclonic winds," said Gawas.
"I have already appealed to all affected farmers to submit their required documents to the Valpoi Zonal Agriculture Office to assess the damages and seek compensation," the ZAO added.