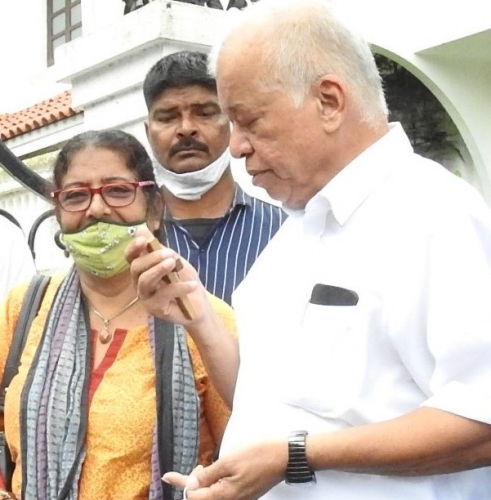 Photo Credits: Santosh Mirajkar
MARGAO
The first thing former Congress leader Luizinho Faleiro did on Monday was to rush to the Navelim Church to seek blessings of Our Lady of Rosary before his planned interaction with workers at his Luchel Caminho de Monte residence atop Borda hillock.
Even as his loyal workers started to trickle in at his residence, Faleiro was at the Navelim Church seeking the blessings of Mother Mary.
And, while heading to Panaji after the interaction with his workers, Faleiro was seen kissing a Cross given to him by a woman, before he along with Navelim block Congress Chief Conceicao Piexote left for the state capital.
While announcing his decision to go ahead with the plan, Faleiro told his workers that the road he has chosen may not be smooth, but those who dare will win, and those who are scared will never win.
And, in his parting statement to his workers, he said "I am a fighter, many people may say Faleiro is old. I may be a bit old in years, but my blood is young. As long as Goa is struggling and suffering, when problems are not getting solution, I will come back to you", he said.
The former Chief Minister did not give any indication whether he would seek re-election from Navelim or will leave the seat to anyone else, saying "this is not the time to discuss issues. I will get back to you once things fall in place".
Asked to comment on the response of his supporters, Faleiro said "they have all unanimously said that I have been always fighting for the state in the last 40 years. They have bestowed me their support and blessings to go forward".
Asked whether any other leaders will follow him in the TMC, Faleiro shot back "a leader doesn't follow. The leader leads and the good leaders at the state level will also lead".
Reassuring his supporters that he is not alone in switching sides, Faleiro said "you will see the change after one or two weeks. There are a lot of people who want to come. They don't want to divide he vote. The war is not against the Congress. Our fight is against the BJP, who are dividing the country and who have left down the country", he said, in a bid to apparently reassure the supporters that his decision to join TMC will not divide the secular vote.