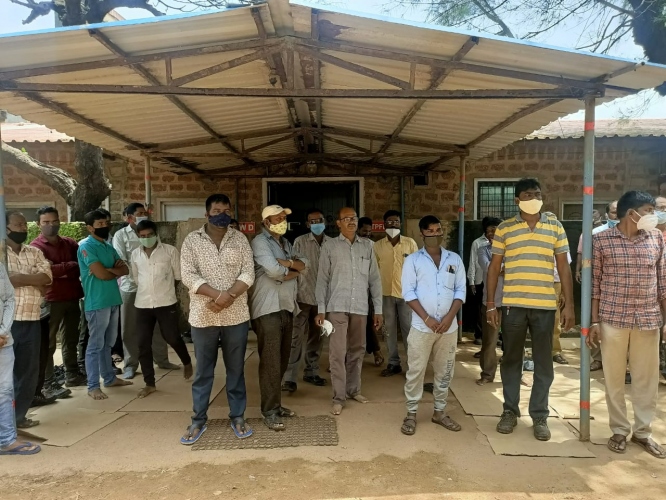 Photo Credits: Vikram Nayak
VASCO
Workers of Gammon India four-lane port connectivity project went on strike on Wednesday over pending salaries. The workers claimed that the salaries were not paid since the last 4 months.
"We have families here and we have to send some money to our parents as well in our native places and we also have festivals. We have not been paid salaries for the last 4 months. We will not start the work till we recieve salaries that are pending for the last four months," said a worker.
Another employee said that the Gammon India company had been asking time for the last few months and every assurance had failed. "They have been asking two days time for the last four months and every time they fail they again ask for more time. We feel that the company is lying to us and hence we decided to stop work," said the worker.
A top official of the Gammon India company said that the company was to receive funds for the project from the government and the salaries of the staff would be cleared soon.
"We had a recent meeting with the Goa CM Dr Pramod Sawant and also there was a meeting with Union Minister Nitin Gadkari and it was decided that we will recieve funds from the PWD for this project and they have given us guidelines to open an Escrow account and we are in the process. We got the clearance from the PWD recently and the entire thing of opening the account is in the process for the last 20 days as per RBI guidelines. We have arranged some interim relief for salaries from the head office that is expected in the next two days and the entire balance salaries will be paid after opening of escrow account. The part payment of the salaries will go into their account and the balance will be updated immediately after opening the escrow account," said the official.