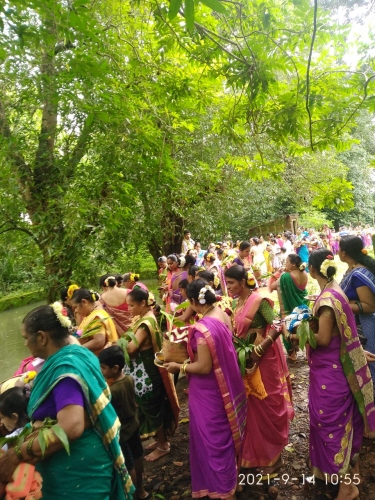 VALPOI
The traditional festival of Gauri Pujan, which is considered as the centre of attraction for Suvasini women, was celebrated with enthusiasm in different villages of Sattari taluka.The ceremony, which was attended by a large number of women from yesterday morning till late at night, was well-attended.
This festival is celebrated with great enthusiasm in villages like Morle, Parye and Kopardem. It is known that during the period of Ganesh Chaturthi, the programme of Gauri Pujan is a part of great ritual for women. In some villages, this festival is celebrated on the fifth day of Ganesh Chaturthi and in many places on the sixth or seventh day. Yesterday, on the fifth day, a large number of women took part in the festival in an enthusiastic atmosphere.
Prasad distribution programme is carried out in front of every Ganapati idol in the village.
The ceremony was held at Kopardem and was attended by a large number of women in traditional dress. In the morning, the women brought Gauri in the form of water from the temple at Kopardem and performed pujan ritual.
Speaking on the occasion, Sitabai Rama Sawant, a woman elder of the village, said that the festival has been celebrated in a traditional manner since last hundreds of years. This ceremony is a special event for the Suvasani women of the village. She said that through such programmes, it is important to keep the traditional culture intact.