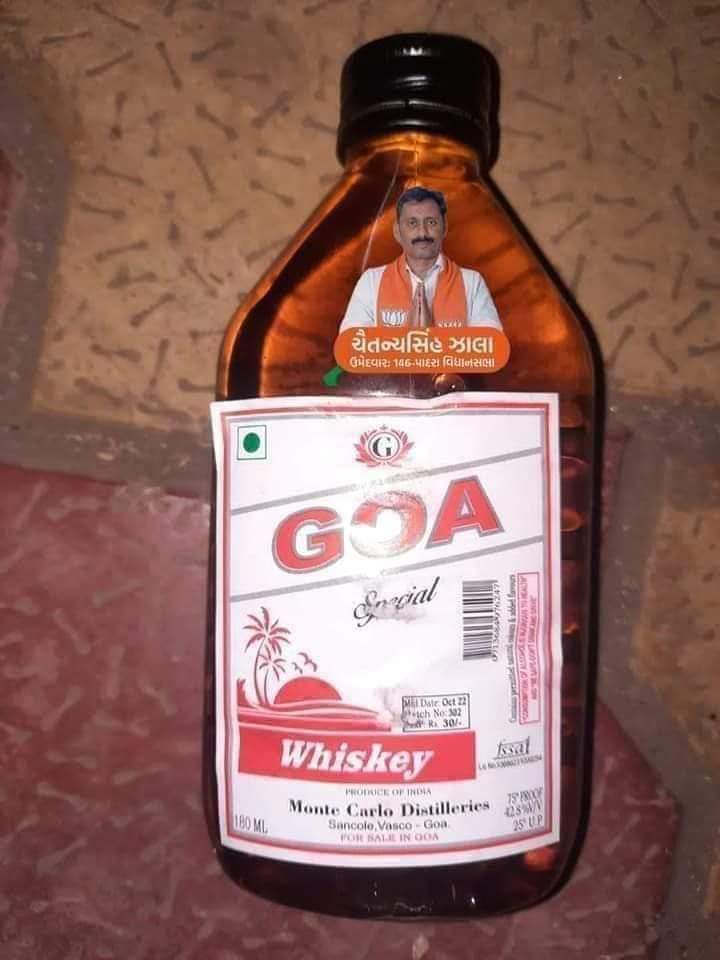 PANAJI
On a day that Goa's Excise department showcased a seizure of contraband liquor worth over Rs 40-lakh allegedly being smuggled out at the Patradevi border check-post, reports have emerged that a 'Goa' branded whiskey distilled and bottled at a Sancoale unit was a big hit in the recent poll campaign in 'dry' Gujarat where election results are expected to be declared on Thursday.
Labels on the whiskey quarter bottles reportedly seized during the recent Gujarat election indicate that it originates from Goa and is bottled at Sancoale by a company styled as 'Monte Carlo Distilleries'.
Branded 'Goa' the label of the whiskey quarter bottle sports a photograph of a man who is purportedly a candidate with the lotus symbol of the Bharatiya Janata Party (BJP).
The episode has been taken cognisance of by election officials of Gujarat and investigations could lead to the distillery premises at the Industrial Estate of the Goa Industrial Development Corporation in Sancoale.
Meanwhile, Rajendra Kakodkar, a functionary of the Goa unit of All India Trinamool Congress (AITC), has said the matter deserves investigation from the Goa government as well.
"This needs investigation. How this reached Gujarat, where prohibited? How low can BJP stoop?," Kakodkar said in a social media post
late on Tuesday.
Meanwhile in the seizure on Wednesday, excise officials said, liquor worth over Rs 40 lakh being allegedly smuggled out of Goa was seized at Patradevi checkpost. (See report on Page 3)
"It was a joint operation by the Excise officials and the Goa police," the official said, adding that the liquor boxes were hidden behind plastic chairs in one of the two trucks which have also been seized in the operation.
In the second truck, the alcohol packed in boxes was camouflaged amidst garbage, the official said.
One of the two truck drivers has been arrested while the other has reportedly fled.