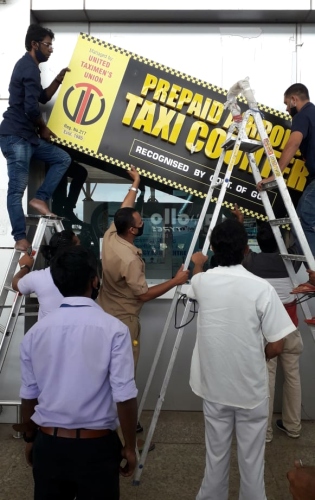 VASCO
In a victory of sorts for the Yellow-Black taximen at Dabolim airport, the GoaMiles counter has shut down and handed over to the Yellow-Black taxi operators.
Transport Minister Mauvin Godinho on Wednesday inaugurated the new counter for Yellow-Black taxis in the presence of Airport Director Gagan Malik and other officials of the transport department. The counter will be managed by the United Taximen's Union.
"Since the launch of the GoaMiles app-based taxis, there have been agitations and clashes among the different taxi operators. We have given two counters for taxi operators at the airport, to prevent long queues and inconvenience to tourists," said Godinho.
The minister, however, warned the tourism department not to give a backdoor entry to GoaMiles at the airport.
"The previous counter was given to GoaMiles for information only, but they began soliciting customers and I will not allow that to take place. The counters are now officially with the transport department and anything related to transportation will be handled by our department, and there should be no confusion."
"We are not against anyone but my initiative of having a 15-year residential certificate for a taxi badge is to ensure that locals get priority and preference in this traditional taxi business," said Godinho.
'Counter closure one step closer to scrap GoaMiles'
VASCO
Pleased that the GoaMiles counter was closed at Dabolim airport and handed over to the Yellow-Black taxis, the All Goa Yellow Black Taxi Association said this was one major step towards their demand to scrap GoaMiles in the State.
"We are extremely happy that our demands have been met and the GoaMiles counter at the Airport has been stopped. Counter 29 at Dabolim Airport was earlier being used by GoaMiles but has now been handed over to the Yellow-Black taxis and we will now have two counters at the Airport," said All Goa Yellow Black Taxi Association President Sanjay Naik.
"We are happy that the government is with the taxi operators and Transport Minister Mauvin Godinho has given us schemes like full repayment of taxi meters, waiver of taxes, relief on insurance and other benefits during the pandemic."
"We are confident that the government will soon resolve our demand for the scrapping of GoaMiles and the closure of their airport counter is the first and a major step towards this demand," said Naik.
Another counter for KTC buses at airport: Transport Minister
VASCO:
Transport Minister Mauvin Godinho on Wednesday said another counter at Dabolim Airport has been allotted for KTC buses.
"The KTC is acquiring electric buses and once this is done, there must be at least some point-to-point sectors which will be operated by KTC. This is to ensure their presence and also to remain active during any emergency or when taxis cannot ply, to ensure that the government is not found wanting in such situations."
"Passengers should be transported out of the airport smoothly and KTC can also benefit from this," said Godinho.