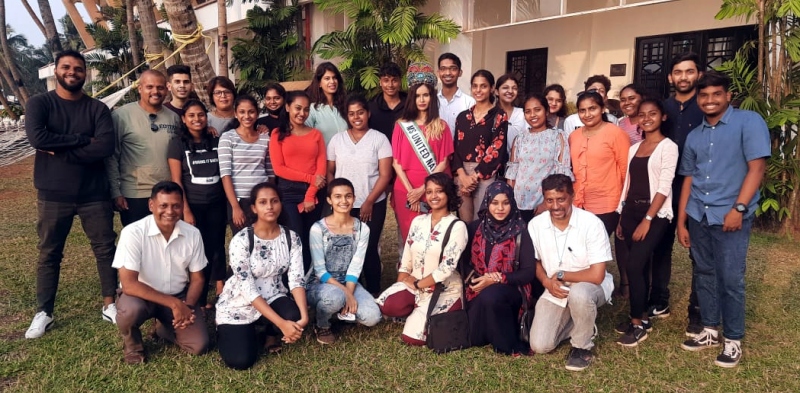 VASCO
The youth of Goa fighting to save their environment got a shot in the arm when Miss United Nations 2018 Dr Shyna Sunsara met the youth in Bogmalo and lauded their determination and resolve to protect the environment.
According to a press release, Dr Sunsara interacted with the youth for over an hour at a resort in Bogmalo on February 17. The youth were accompanied by Dr Fr Bolmax Pereira and Capt Viriato Fernandes.
Dr Sunsara said people across the world desire to visit Goa and take back memories of the beautiful paradise on Earth.
Whenever she came across people of other nationalities, Dr Sunsara said they immediately made mention of Goa when they come to know that she belongs to India.
She said people across the world envy the beautiful state and have often expressed their dream to visit Goa someday.
Sharing her experiences as an ardent environmentalist, she listened intently to the youth and how they have been making efforts to spread the green message despite all odds.
The Miss United Nations 2018 explained how a few years back she along with a handful of people started a drive to convert a dry patch of open space into a small forest in her home state and converted the area into a mini-forest.
The drive continued and she managed to achieve a goal of planting over a lakh trees, and as the movement grew, the members from the general public also joined in large numbers and today, that movement has a small army of volunteers engaged in spreading greenery.
Many youth posed questions ranging from global warming to the destruction of Amazon forests, animals.
After listening to the youth, Dr Sunsara said she felt inspired by their grit and determination to save Goa's environment and beauty.
She emphasised the importance of saving trees and actively participating in programmes by the government on environment conservation.
Dr Sunsara advised the youth to take time off from their studies and dedicate their efforts to planting trees throughout the year, and not sticking to occasions announced by authorities.
On a parting note, Dr Sunsara advised the youth to continue their struggle to save the environment and the State and thus, build a movement to save the planet from global warming and destruction.