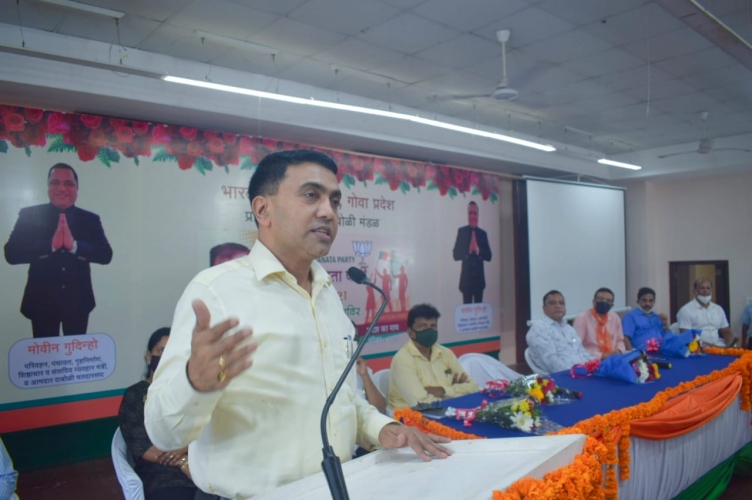 Photo Credits: Vikram Nayak
VASCO
Chief Minister Pramod Sawant on Sunday afternoon said that his party, BJP, was aware of what is good and bad for Goans. Appealing to people not to fall prey to the false propaganda against development projects by the opposition as an election agenda, Sawant reassured that coal handling would be reduced by 50 per cent initially and finally the BJP would not look back to stop the entire coal handling once alternate cargo was made available at the port.
Sawant was speaking at the two day workshop organized by the BJP for its workers at the Chicalim Panchayat Hall in the presence of Panchayats Minister Mauvin Godinho and others.
"BJP is a party which has worked for the people and we at BJP very well know what is good and bad for the Goans and we will never allow any increase in handling of coal at Goa at any cost. On the contrary, we will reduce the coal quantity by 50 per cent and once we have an alternate cargo, we will definitely not look back to stop the entire coal handling at Mormugao Port Trust (MPT) and I am very confident on this," said Sawant
On developmental projects, he said 400 KV line project is required because of the rise in power consumption and with ever rising demand we may have to go for power shut downs for long durations in the future because Goa does not generate power.
"Power shortage also affects water supply and people must understand this," he said.
"Today the opposition is having an election agenda to misguide people and oppose every developmental project. The national highway expansion is being carried out from Pernem to Canacona and the recent bypass road at Canacona has cut short the distance from 21 kms to 7 kms -- this is development. However, there are some people who have taken up an agenda to stop all the developments and people must not fall prey to them and their false propaganda," the Chief Minister said.
Sawant while saying that developmental projects should not be opposed by the people also assured the BJP workers that the party would come back retain power with a majority in the upcoming assembly elections in 2022.
No need of lockdown: CM
VASCO: With a buzz growing that Goa could go in for a lockdown again due to an expectant second Covid-19 wave, Chief Minister Pramod Sawant ruled it out on Sunday.
There is no need for a lockdown in Goa again. It will not happen. Goans can defeat Corona by taking necessary precautions, he said.
"I urge Goans to maintain social distancing, use face masks and sanitizers and not gather in crowds as a precautionary measure against Covid 19 pandemic," said Sawant.