Goa environment team travels across the borders into Karnataka, discovers the horrifying facts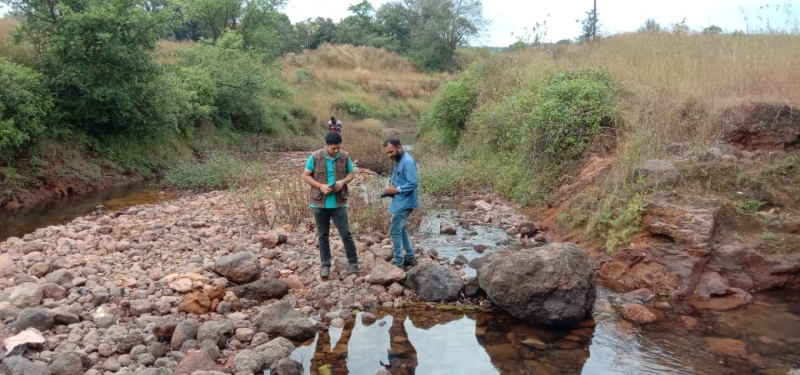 PANAJI
Alarming developments to stop the flow of Mhadei into Goa have come to light after a team of activists led by environmentalist Prof Rajendra Kerkar crossed into Karnataka only to find an underground tunnel dug up underneath the plateau to divert the entire flow of river Mhadei to Malaprabha. A dam and a canal have also been dug up at the site.
These facts were noticed by the team comprising Prof Prajal Sakhardande, Adv Hridaynath Shirodkar, Mahesh Mhambre, Nehal Parab, Ravi Harmalkar who went on this study tour along with Prof Rajendra Kerkar and were eyewitnesses to these shocking facts that developed during the lockdown period, when the borders were sealed and crossing them was not allowed.
Speaking to The Goan, Prof Prajal Sakhardande shared, "We began from Keri and crossing the Goa-Karnataka border our team went to Kanakumbi. There we were shocked to see the diversion of Mhadai into river Malaprabha."
Prof Sakhardande briefed that the Parvad tributary of Mhadei joins Kalsa river, but to restrict this natural flow, there have been huge rocks piled up artificially. These rocks are brought from some other place and kept there, as they do not match the other surrounding rocks. "Also, an underground tunnel has been dug up by which to divert the entire flow of the Mhadai to Malaprabha. It is shocking and glaring and sadly, the Goa government seems to be not aware of this," stated Prof Sakhardande who expressed grave concern over the matter.
Demanding that this diversion and the blocks should be removed and let the river flow into Goa in its natural course, Prof Sakhardande said that there is no flow in Goa as the Kalsa diversion has killed Mhadai completely and this issue invites immediate attention of the people of Goa and all political parties, irrespective of their different agendas.
"Progressive Front of Goa activists have planned a symbolic protest on December 6 in Panaji at the Beti-Mandovi river front. We are inviting all political parties to be a part of this symbolic protest, keeping aside their differences. Mhadai is Goa's lifeline and we must stand up together to protect and save the river," appealed Prof Sakhardande, who also mentioned that on December 18, as their annual ritual, there would be Aarti of river Mhadei (Mandovi) in Panaji, again giving a call across party line to join the mission Mhadei.