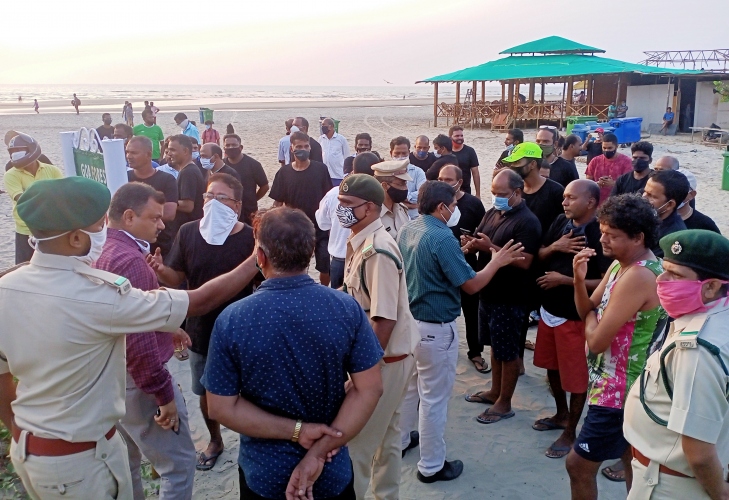 Photo Credits: Nivrutti Shirodkar
PERNEM
The inauguration of the Goa Turtle Festival at Morjim beach witnessed some tense moments on Tuesday, when locals objected to the involvement of an NGO in the event and the forest department was compelled to inaugurate the festival at the Olive Ridley nesting site.
Locals supported the festival backed by the forest department, but objected to the participation of the NGO and wore black T-shirts as a mark of protest.
The festival, which was to have been inaugurated at 4.30 pm, was later inaugurated at 6.30 pm by Principal Chief Conservator of Forests (PCCF) Subhash Chandra in the presence of other forest department officials.
Speaking to reporters, locals in Morjim defended their decision to oppose the involvement of NGOs at the Goa Turtle Festival.
"We don't have any objection as long as the forest department organises this festival independently without involving any NGOs," said a local.
"These NGOs have become a business. They get private and government sponsorship to organise such events but use that money for their own enjoyment. In return, legal shacks are fined lakhs of rupees and rules are also made stringent if anyone wants to build a new shack."
"Conserve turtles, but not at the cost of our livelihood. There's not a single local involved in the
NGO and so, we will oppose if anyone uses our village name for their benefits," the local added.
Locals also forced forest department officials to remove the hoardings put up by the NGO.
The locals were supported by former sarpanch Satish Shetgaonkar, local panchas Pavan Morje and Vilas Morje, as well as many other residents in the village.
Earlier speaking during the inauguration of the festival, Chandra said it was everyone's responsibility to conserve Goa's biodiversity.
"To save the biodiversity of Goa's environment, we started this turtle conservation programme with the support and cooperation of locals. Students, researchers and environmentalists should visit this festival," said Chandra, while adding that the campaign would be carried forward by taking locals into confidence.
Forest department officials Saurabh Kumar and Prem Kumar also spoke on the occasion.