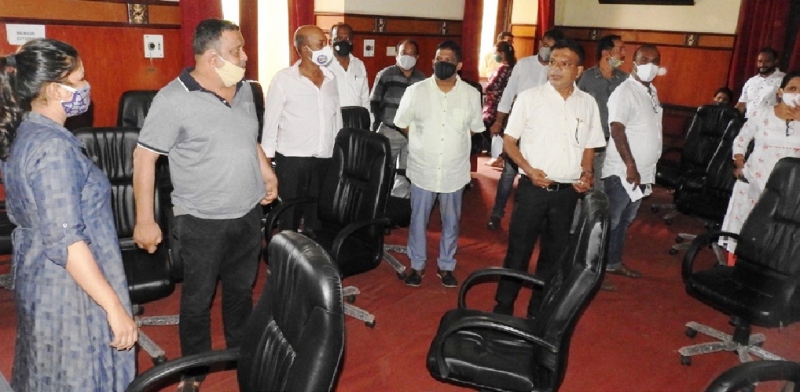 MARGAO
The cold war between Margao Municipal Council Chairperson Pooja Naik and Chief Officer Ajit Panchwadkar was evident in the municipal hall on Tuesday morning, triggering an uproar.
An agitated Chairperson even warned the Chief Officer that any insult to the council will not be tolerated by the councillors.
While the city fathers and the Chairperson were all seated in the municipal hall for the special meeting scheduled at 11 am, they found to their shock and surprise the CO and other officials conspicuous by their absence.
Councillors led by Rupesh Mahatme demanded to know how the meeting could take place in the absence of the officials.
The episode saw most of the councillors raising an uproar demanding the presence of the officials in the hall or postpone the meeting. Even as some of the city fathers were about to leave the meeting hall, Chief Officer entered the hall and took his seat, away from the Chairperson.
An agitated Pooja was heard warning the CO that the council will not tolerate any insult any longer.
The councillors also insisted on the presence of the municipal engineer S Gaonkar and the Market Inspector Viraj Arabekar since the Sonsodo garbage was an issue falling in their domain.
At the meeting, the councillors demande that the CO review his decision to keep the revenue counters closed by 3 pm, saying this is totally unacceptable in a pandemic situation.
Chief Officer Panchwadkar later told the media that the revenue counters are being closed at 3 pm since the civic body has started a new system wherein the bank officials personally come to the municipality to collect the daily revenue collection.
"In the past, MMC used to deposit revenue collected on the same day or the next day. I have done away with the system due to security considerations. Now, the bank officials come to the municipality to collect the daily cash," he said, adding that he would request the bank to collect the cash a little late so that the MMC cash counter remains open till 5 pm.