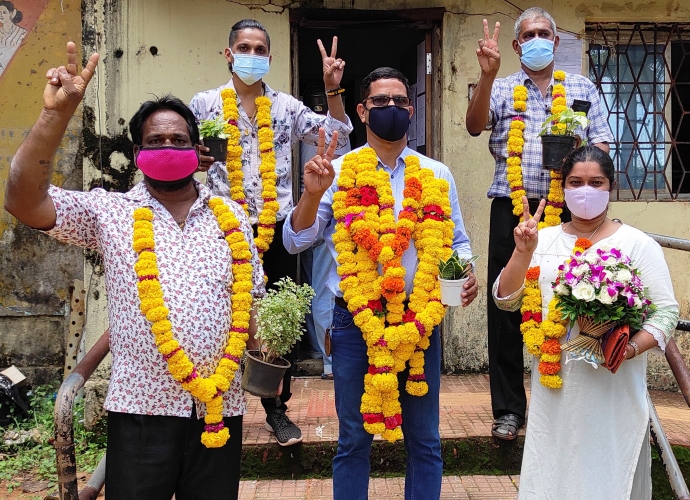 Photo Credits: Santosh Mirajkar
MARGAO
The anti-Churchill group in the nine-member Colva panchayat retained power in an election on Thursday that saw opposition candidate, Pio Furtado, complaining of chest pain and being taken by an 108 ambulance to hospital just before polling could take place.
The ruling members, however, said the ambulance was seen near the Panchayat Ghar much before the candidate complained of chest pain.
As expected, Johnson Coelho won the election defeating Pio Furtado, helping the anti-Churchill ruling group to retain its hold over the coastal panchayat. Panch member, Pio Furtado, who had filed his paper for the election, complained of chest pain when the election process started. He was rushed to the hospital just before voting could take place. Three members of the opposition group, including Pio and Menino Fernandes, did not vote, while one vote was declared invalid.
The election, which was held after more than two months and a half, saw opposition member Menino Fernandes alleging that the election was not conducted in a fair manner. He said all the protocols related to the Covid pandemic were thrown to the wind. Outgoing sarpanch Anthony Fernandes, however, countered saying the presiding officer conducted the poll in a free and fair manner.
After the election, Menino pointed out that the presiding officer neither enforced social distancing norms nor was the hall sanitized before the members could take their seats. He further said presiding officer did not insist on the Covid negative certificates.
Outgoing Sarpanch Anthony pointed out that the five-member ruling group had undergone the Covid test, saying that the test report had come negative.
While Menino said the new sarpanch should ensure the development of the village and resolve the garbage issue, the newly-elected Sarpanch said the panchayat will accord top priority to usher in development of the village.
While thanking the ruling group for electing him to the post, Johnson said he was happy that the authorities have finally filled up the post, which had been lying vacant for nearly three months now.
AAP rejoices, takes
a jibe at Churchill
MARGAO: The Aam Admi Party celebrated the victory of the anti-Churchill group in the Colva panchayat body, with AAP leader Wenzy Viegas giving a call to the remaining panchayats in Benaulim constituency to tell the Benaulim MLA that the days of playing "politricks" are over.
Wenzy made his presence felt at the Colva panchayat moments after the anti-Churchill group in the panchayat body, retained power by electing Johnson Coelho to the coveted post.
He said the five member ruling group has shown Churchill his place. "One panch was told to fill up the form. An ambulance was sent near the Panchayat Ghar before the panch could fall sick. This is nothing but politricks. This young and dynamic group in the Colva panchayat has checkmated Churchill", he said.