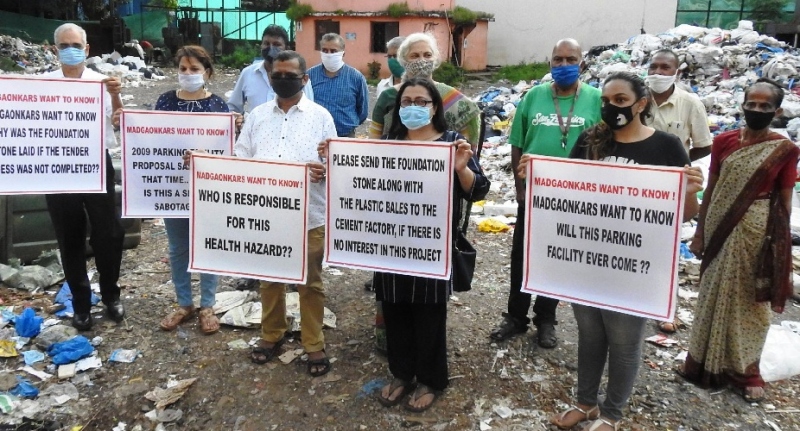 MARGAO
Madgavkars have questioned the inordinate delay in starting work on the multi-level parking project, as Tuesday marked the completion of five long years when the foundation
stone for the ambitious project was laid on September 15, 2015.
The issue found a mention at the special meeting of the Margao Municipal Council chaired by Chairperson Pooja Naik for a different reason, after city fathers demanded an inquiry whether any portion of the land or shops to be acquired stands dropped from the original land acquisition proposal.
And, the issue echoed outside the municipal building when a group of Madgavkars, armed with placards, questioned the lethargy of the civic body in completing a project for which a foundation stone was laid exactly five years ago.
At the MMC meeting, city fathers demanded to know from the Chairperson whether a ground-plus-six floors commercial project is proposed at the site where shops have come up. They demanded a thorough inquiry into the issue after councillor Rupesh Mahatme, who is also a member of the SGPDA, told the chair that he and other PDA members had raised objections to the multi-storied commercial project.
Members demanded to know whether the shops and establishments, which were to be acquired as per the original land acquisition proposal, were later dropped before the finalization of the land acquisition award.
Chairperson Pooja Naik assured the city fathers that she will ask the municipal technical section to get the exact status of the land acquisition proposal.
Meanwhile, former MMC chairperson and present councillor Arthur D'Silva questioned the delay to complete the project. "Is the project being kept on hold by some political players just because the foundation stone for the multilevel parking was laid during my tenure as Chairperson?" Arthur questioned, while pointing out that he had set in motion the process to put the multilevel parking in place given the acute parking problem plaguing the city.
Meanwhile, a group of Madgavkars led by former MMC Chairperson Savio Coutinho assembled at the old fish market where the foundation stone was laid for the parking project.
Armed with placards, the citizens not only protested over the delay in completing the project, but took strong exception to the dumping of dry waste on the land, making the entire old fish market area an eyesore.