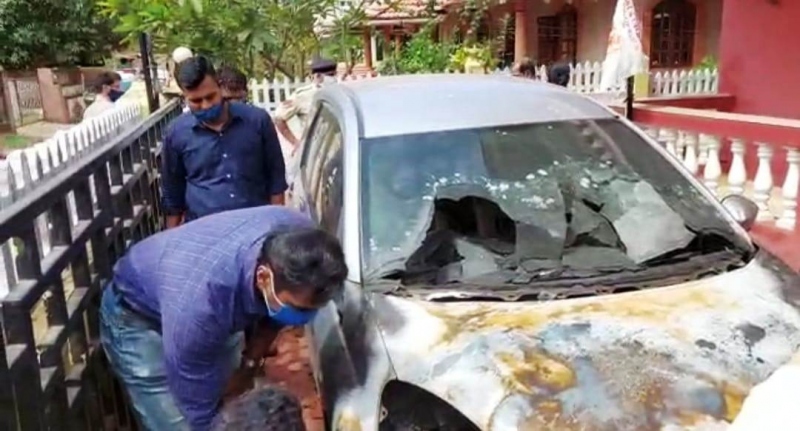 MARGAO
In an incident that has sent shockwaves amongst residents, a group of four miscreants set fire to a car belonging to the principal of a higher secondary school.
The car parked at the principal's residence at Ambaji-Fatorda was set afire by the four miscreants with some explosive substance in the wee hours of February 20.
While the Fatorda police had registered a case of mischief, Principal Trevor Barretto and his lawyer said the police did not invoke strict provisions of the IPC even though he had named the suspects involved in the case.
While the Fatorda police station in-charge PI Kapil Nayak said the forensic team has inspected the charred vehicle on Monday, Trevor said that the fire incident should be treated with all seriousness by bringing the culprits to book.
"I and my family members were sleeping inside when the miscreants set my care afire at around 2.50 am. The four came on two bikes, of which two of them were caught on the CCTV camera jumping over the compound wall to enter inside before they used an explosive substance to set the vehicle on fire," Trevor told the media at his residence on Monday.
"My mother who stays in an adjoining house woke up after hearing the sound of an explosion. She alerted me and the neighbours. The fire personnel suspected that it was a case of a short circuit, but checking of the CCTV footage of our neighbours showed that it was the handiwork of the four persons," he said.
Barretto added: "I have named one of the suspects in the case, but there's no further investigation."
His lawyer, Adv Seoulla Vaz expressed surprise that the police only invoked section 435 of the IPC for causing mischief. "It is now clear the crime was the handiwork of four persons, but the police did not invoke criminal conspiracy as there appeared planning and execution of the crime. The miscreants have used an explosive substance to set the vehicle afire. The police did not invoke the provision of house-trespass," Adv Vaz said, while demanding that if the Fatorda police cannot handle the case, it should be handed over to the Crime Branch.