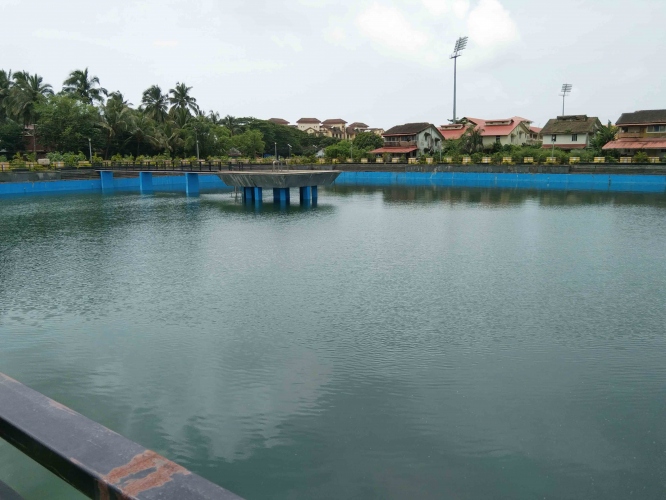 Porvorim
Public Works Department (PWD) has missed the deadline thrice which was set for the release of 5 MLD of water from the new water treatment plant being constructed near Police Quarters at Porvorim.
Chief Minister Pramod Sawant had assured during the laying of the foundation stone for Lekha Bhavan as also on the floor of the house that 5 MLD water would be released from the water treatment plant at Povorim by the end of March 2021. Later during the inauguration of Science and Community Park at Porvorim PWD Minister Deepak Pawaskar had announced that the 5 MLD water would be released by May 10, 2021. PWD again confirmed that by all means the water will be released on August 15, 2021. Thus PWD has missed all three deadlines and as a result, the residents continue to face water shortages even during the rainy season.
When contacted the Chief Engineer of PWD Santosh Mhapne stated that they had made all preparation to release 5 MLD treated water from the new treatment plant on August 15, 2021, as declared.
"The trial also was held. However, due to a breach of the canal in Maharasthra, the inflow of water from Tillari to Porvorim reservoir stopped. The water which is being received from the Assonora water treatment plant is not sufficient while the Amthane pipeline is not connected to Porvorim. Hence they have to depend on the water supply from Tillari. We are in touch with the Water Resource Department at Porvorim and as soon as the water supply from Tillari is resumed the water treatment plant at Porvorim will be commissioned and 5 MLD water will be released. The construction of the entire plant will be completed by December 31, 2021," said Mhapne.
The Chief Engineer of the Water Resource Department Pramod Badami stated that during rains there were landslides at two places in Maharastra due to which the canal which supplies water from Tillari to Goa got breached. "They are in constant touch with the concerned officials in Maharashtra. The work of removing the debris and repairs of the canal is in progress, and in a couple of days, the water supply from Tillari will be resumed. By next week the PWD will be able to release 5 MLD of water," said Badami.
Porvorim MLA Rohan Khaunte stated that the residents of the Porvorim constituency are reeling under the severe water shortage presently.