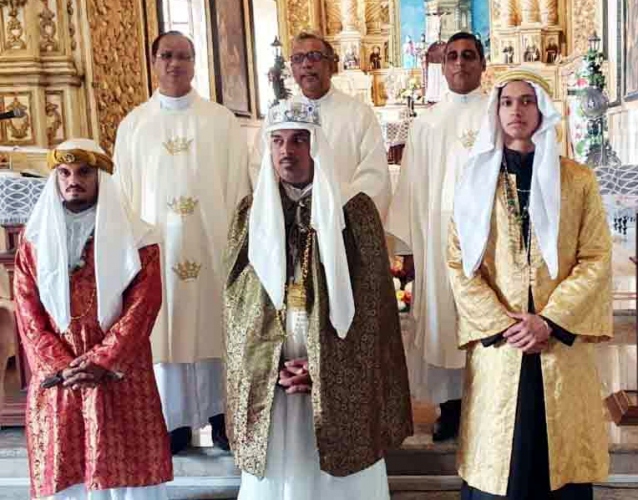 Photo Credits: Anil Shankhwalker
PORVORIM
The Feast of Epiphany, also known as the feast of The Three Kings was celebrated at the Reis Magos Church on Wednesday, with three youth representing the Three Kings at the Feast Mass.
On account of the Covid pandemic, only a few parishioners were allowed inside the church.
The Three Kings were represented by Brandon D'Souza, Joe D'Souza and Wesbon Moraes.
Fr Valerian Vaz was the main celebrant at the Feast Mass and Reis Magos Parish Priest Fr Orlando Marques was the concelebrant.
Later speaking to media persons, Fr Marques said the Reis Magos Church was the first church in Bardez which was built by Franciscan priests in 1555.
"This church has been declared a national monument by the central Government. Apart from Reis Magos, this feast of Three Kings is also celebrated in a very special way at Our Lady of the Mount Chapel (Cansaulim) and Church of Our Lady of Bethlehem (Chandor) on January 6."
"This feast is a tribute to the Three Kings who came with gifts to see the Lord Jesus as an infant."
"A special aspect of this feast is that although being a Christian festival, it is also celebrated by Hindus with equal zeal and passion," said Fr Marques.