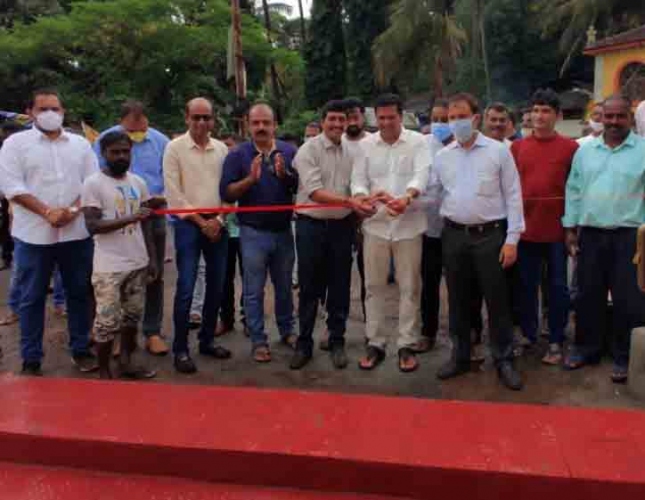 Photo Credits: Anil Shankhwalker
PORVORIM
The Saligao MLA Jayesh Salgaonkar stated that RDA has constructed seven Ganesh Visarjan platforms in Saligao constituency by spending Rs91 lakh.
The residents in Pilerne, Nerul, Reismagos, Guirim , Sangolda and Saligao were facing lot of difficulties during immersion of Ganesh idols for want of suitable platforms .Hence on the request of the residents through RDA, Salgaonkar got 7 Ganesh Visarjan platforms built in the constituency namely 2 each at Pillerne and Nerul and one each at Guirim, Saligao and Reismagos.
There were three sluice gates at Mansher near Srikrishna temple and all these three sluice gates were damaged due to which the fields used to get flooded. All these 3 sluice gates have been repaired through Water Resource Department at a cost of Rs 67 lakh, said Salgaonkar.
He was speaking in Pilerne after inaugurating the Ganesh Visarjan plateform in the presence of Sarpanch of Pilerne –Marra panchayat Sandeep Bandodkar, panch members Amarnath Govekar, Karan Govekar, ZP member Rupesh Naik and President of Shetkari Sanghtana Suvarnasinh Rane.
Reismagos Zilla Parishad member Rupesh Naik stated that the development of the village goes faster with the support and cooperation of the villagers.
"The villagers should be active and they should propose the developments required to be carried out in the village so that the Panchayat can take the necessary resolution and forward it the government and the MLA," said Naik.
The President of Shetkari Sanghtana Suvarnasinh Rane thanked MLA Jayesh Salgaonkar for repairing the threes sluice gates and fulfilling the long pending demand of the farmers .
The sarpanch of Pilerne –Marra Panchayat Sandeep Bandodkar welcomed the gathering.