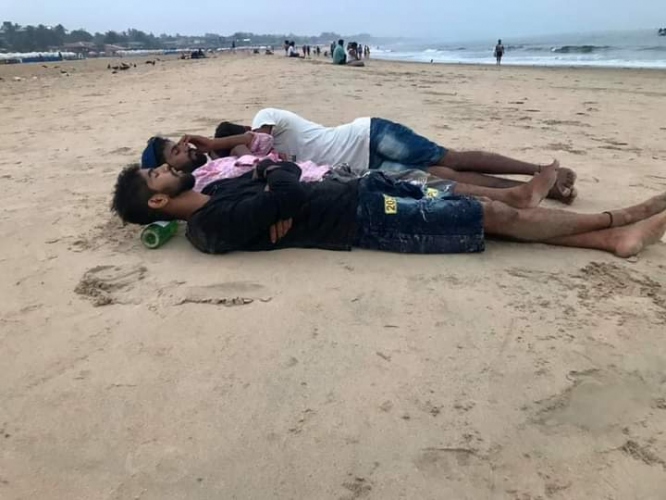 PANAJI
As the mercury keeps heading north, Goa's beaches known to be a favourite summer getaway for Goan, are turning dangerously unsafe and 'uncomfortable' particularly for women and children with indecent and voyeuristic desi tourists prowling the white sands.
Scores of accounts of men lurking around and invading intimate space of women and children, videographing them are surfacing on social media platforms as Goa's beaches continue to be thronged by tourists despite the rising Covid-19 cases and restrictions imposed by the State administration.
"You will not make me uncomfortable in my own home" screamed a recent post by Instagram user @vanessa_29al citing an incident where a man was lurking around, making lewd gestures and video-filming on his phone a group of her friends, all mothers with their children playing on the beach.
The Goan got in touch with the owner of the IG account @vanessa_29al, Vanessa Almeida who said: "Such incidents must be increasingly reported so lifeguards and cops know there is this 'dangerous thing' happening on the beaches," Almeida said.
Almeida's post, which got fairly large traction, also described how one of her friends confronted the man and even "punched him in the face" when she realised he was filming on his phone one of the little girls playing in the sand and water.
Crowded beaches and inappropriate behaviour by tourists are becoming common place on Goan beaches. Recently, the long Holi weekend was a time when several of Goa's beaches were thronged by uncontrollable crowds of tourists even as the State administration cancelled the traditional Shigmotsav festivities citing a potential next wave of Covid-19.
However, there is little if anything that Goa's police or tourism officials do to intervene and curb the nuisance although a law had been enacted a couple of years ago to specifically tackle the menace.
According to the January 2019 amendment to the Goa Tourist Places (Protection and Maintenance) Act, 2001, individuals boozing and creating nuisance on beaches could be fined Rs 2,000. If there are more than one person involved, the fine on the group could go up to Rs 10,000.
In November of the same year (2019) two sloshed
tourists entered the waters despite attempts by lifeguards to stop them, and drowned. The administration reacted to that incident by announcing strict enforcement of the law.
"There will be enforcement of the law to prevent people from drinking on beaches. Additional police forces have been pressed into beach safety duties to prevent a repeat," was how Chief Minister Pramod Sawant had reacted to the drowning incident.
But over a year on, there's little evidence on ground zero that there is any truth to his words.
For instance, co-promoter of Tito's, a top night club at Baga, Ricardo D'Souza, highlighted on social media a few days ago that no officials man the beaches to police the boisterous and crowding tourists.
D'Souza followed up with a complaint to Chief Secretary Parimal Rai in which he accused government officials of abandoning their job on the crowded roads and beaches and instead trying to extort money during the Holi festivals by selectively targeting private night spots.