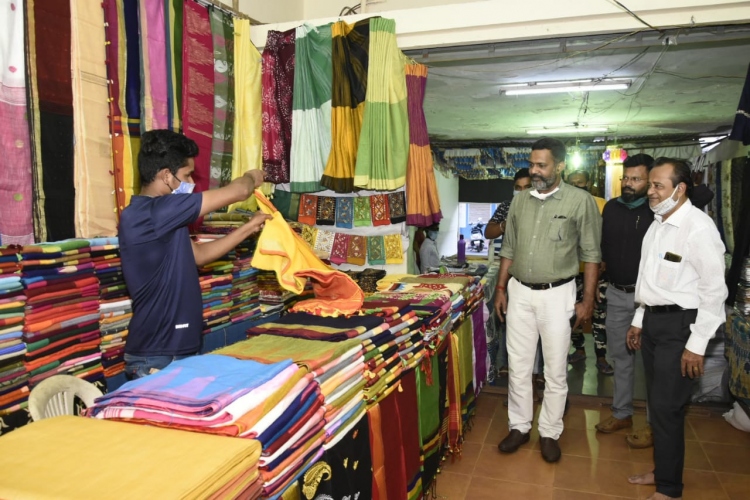 VASCO
Vasco BJP Mandal President and former MMC chairperson Deepak Naik on Saturday appealed to people to support the cause of artisans under the Atmanirbhar Bharat initiative launched by Prime Minister Narendra Modi.
Naik was speaking to reporters after inaugurating the Rajasthan Grameen Mela at the Vasco Residency hall on Saturday evening in the presence of Mahaveer Challani, organiser of Rajasthan Grameen Mela and others.
"Artisans and organisers of Rajasthan Grameen Mela arrive in Vasco every year, bringing the best of handicrafts, clothes and a wide range of products of great quality."
"The Central government and the textile ministry is also supporting them. While the Atmanirbhar Bharat mission has been launched by Prime Minister Narendra Modi, people must also help artisans who work hard to bring us the best of products."
"While we patronise them, we also support their talent and efforts, helping them earn their livelihood and support their families," said Naik.
Grameen Mela, a non-profitable organisation, is working to promote craft and craftsmen in India. The mela will showcase various items like sarees, Lucknow Chikan work, carpets, handlooms and other range of exhibits and dress materials from all over the country.
Mahaveer Challani, the organiser of Rajasthan Grameen Mela, told reporters that the exhibition would showcase handlooms and handicraft approved by Government of India and supported by Ministry of Textiles.
"These Melas are organised throughout India and we organise such Melas at Vasco, Margao, Mapusa and Porvorim. There are over 50 counters at the Mela and since we are direct sellers, prices here are around 40-50 per cent lower than showroom prices," said Challani.