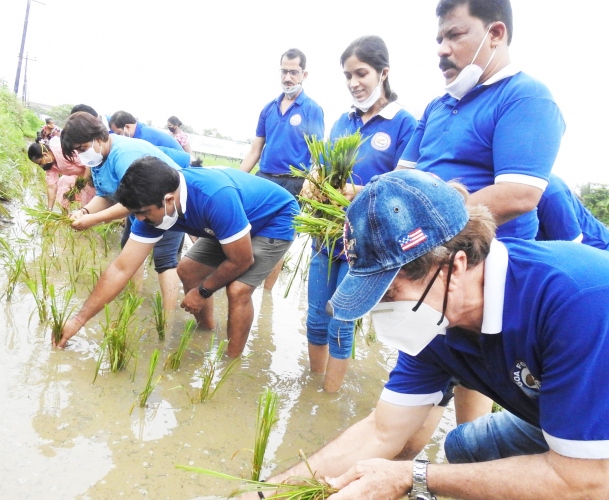 Photo Credits: Santosh Mirajkar
MARGAO
Saying that Goa can become Miami if MPT is made a cruise terminal, Goa Forward Chief Vijai Sardesai on Wednesday again made a fervent plea to Union Minister of State for Tourism and Ports Shripad Naik to take measures to make MPT coal-less and to take tourism forward by making the MPT a cruise terminal.
Saying that coal is certainly not in the interest of Goa and Goans, Sardesai praised the Union Minster for responding to his letter, saying there was no such response from the ruling government in the past.
"Bhau (Shripad) has said that he would take a decision in the interest of the state. Coal cannot be in the interest of Goans. I appeal to the Minister to take a call by making MPT coal-less and a cruise terminal before he gets and additional portfolio", he told the media after he and his Goa Forward Councilors and supporters descended in the paddy fields at Dovondem bandh for the sowing operations on Wednesday.
Reminding that tourism is a pollution-free industry, the Goa Forward Chief said the top cities of the world plays host to cruise terminal, contributing to tourism in a big way. "We will support Bhau if he comes out with a concrete proposal to make MPT coal-less and make the port a cruise terminal", he added.
Saying that the objective behind descending in the fields of the sowing operation is to feel close to their roots, Sardesai said he had been contributing to take agriculture forward in Fatorda by providing subsidized operations to ensure that no field remain fallow in the constituency.