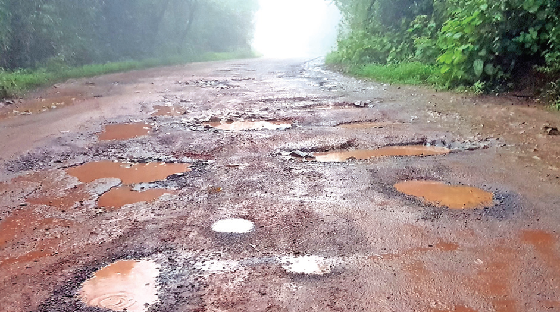 the goan I network
VALPOI
With the Belagavi-Goa NH4A highway now closed to all traffic at Anmod Ghat and with numerous potholes along the Goa-Karnataka road via Chorla Ghat, travelling between Belagavi and Goa has become a major hurdle for motorists and commuters.
Ever since the Anmod Ghat route was closed for traffic, barring a short period during Ganesh festival, for a number of months, heavy and light vehicles have been plying along the Chorla Ghat route.
This had led to the deterioration of the road at the Chorla Ghat and heavy rains in August had further damaged the road, leading to several potholes and making it difficult for vehicles to travel along the route.
Locals claimed that authorities had been requested to repair the potholes, but they said nothing had been done in the matter.
A Karnataka bus driver Gopal Gawde expressed displeasure over the condition of Belagavi-Goa road within Goa's territory and said the road in Karnataka's jurisdiction was in good condition.
"It appears that authorities in Goa are least bothered about the condition of this road. It is very difficult to drive a bus on this road and there have been a number of breakdowns as a result of the bad road," said Gawde.
"The Goa government should take serious note about the condition of this road because this route provides a vital road connectivity between Goa and Belagavi," he said.
Another driver, Feroz Bedri, a frequent traveller on this road, said it was a major headache to travel on the bad stretch of road at Chorla Ghat.
A PWD (road) official at Valpoi said it was virtually impossible to repair the road due to continuous rains since the last one-and-half month. "It is meaningless to repair this road during rains. Filling of potholes will be undertaken shortly, provided there are no rains," the official said.