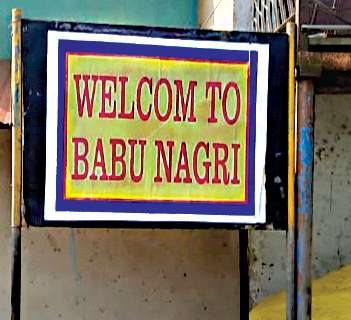 the goan I network
MARGAO
From 'Babu Nagri' to 'Azad Nagri' and back to 'Babu Nagri', politics has come full circle after close to a decade and half as politicians jostled to establish their stranglehold over the migrant inhabited colony near the Margao ESI hospital.
If Margao MLA Digambar Kamat in the presence of former Chief Minister Pratapsing Rane installed the Azad Nagri board, signifying that the migrant colony has been liberated from the dominating influence of Manohar Babu Ajgaonkar around 2005, Ajgaonkar's supporters bounced back on Dussehra Day on Tuesday by re-naming the colony as Babu Nagri.
The Tourism Minister was not present around when the board after his name was installed outside the colony, but Babu said the people inhabiting the colony has only rectified the wrong done by the Congress government and Digambar Kamat in particular around 14 years ago. 'Madgavkars are well aware who was behind these voiceless people when they were displaced by the Konkan railway and who later fought for them to get the the plots. Some people had tried in vain to stop the rehabilitation, but I fought for these people and had to even go to jail, before Rane and Digambar one fine day came and installed the Azad nagri board', Babu said.
He pointed out there was no occasion for putting up the Azad Nagri board when the inhabitants were citing their address as Babu Nagri.
The Tourism Minister said he would continue to take up cudgels for the people inhabiting the colony, saying that politicians have only fooled the people.
The Azad Nagri has been a stronghold of Margao MLA and Leader of the Opposition for over a decade and half, with the migrant vote bank contributing to his election victories in the city.