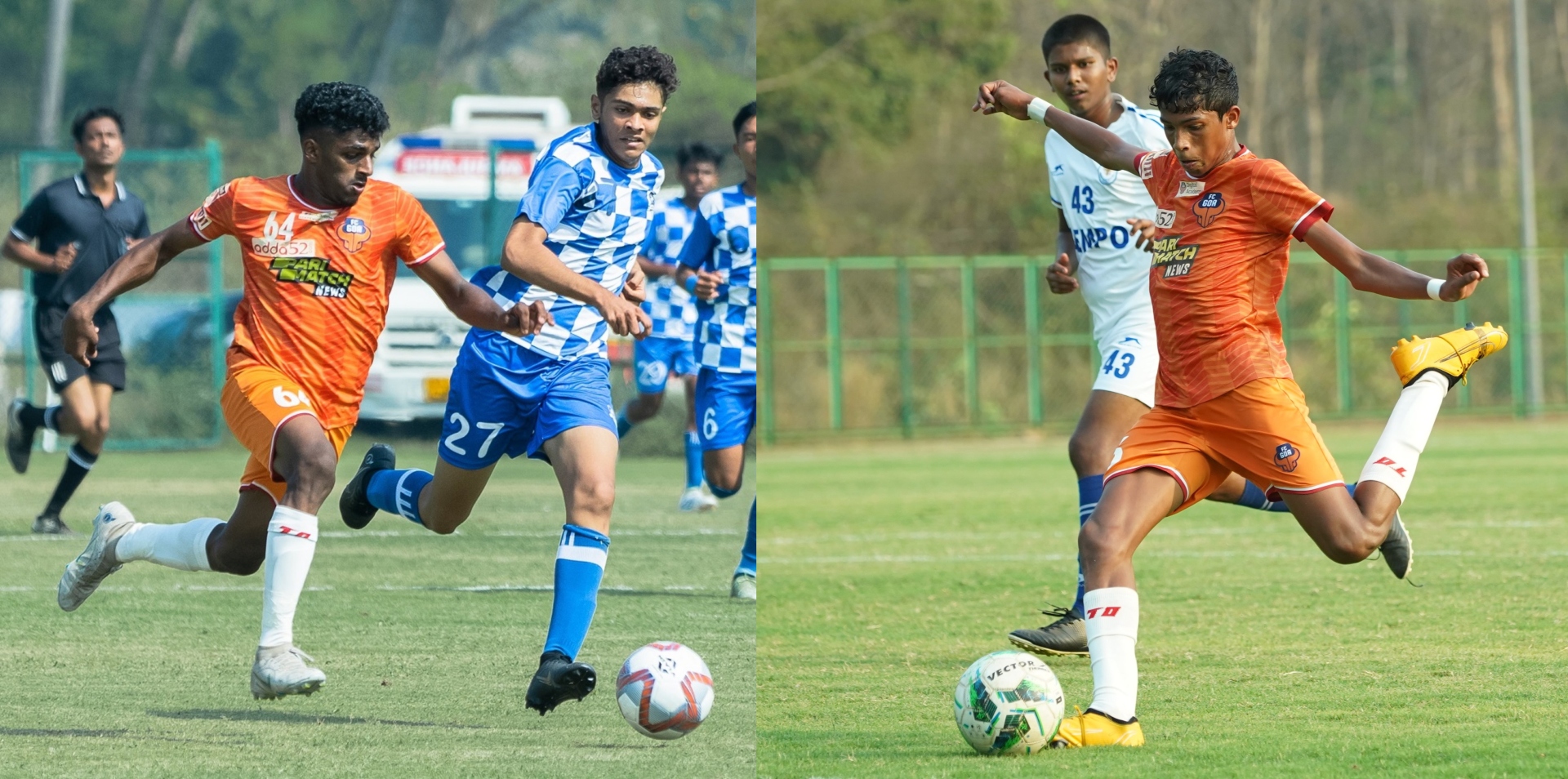 Photo Credits: FC Goa
PANAJI
Following the footsteps of the likes of Benzinho Fernandes, Peter Carvalho, Seriton Fernandes and others, the town of Quepem in South Goa may soon have two more rising footballers to cheer for, in Likson and Lesvin Rebelo as they chase their footballing dreams at FC Goa.
The two brothers, both playing for the Gaurs, have been making waves in local footballing circuits as they win one laurel after another. Likson, who plays for the FC Goa U17 team, won the GFA 3rd Division League title in January this year, while Lesvin, who plays for the U15 team, won the GFA U15 First Division League title in March.
For Likson, football has been a passion since his childhood. "I started playing with my friends in fields close to my house after school and during holidays," he said when asked about his earliest memories of the sport.
His parents then saw his interest and encouraged him to attend coaching, after which he joined GFDC (Goa Football Development Corporation) at the age of 7. Through GFDC, he developed his skills and soon started playing for his school team. In one such game in an inter-school football tournament, he was spotted by Joaquim Crasto, one of the scouts of FC Goa.
"Joaquim sir is how I got a chance to join FC Goa. He saw me play and convinced me that if I attended the Club's U17 trials, I would surely get in. His words of encouragement pushed me to do well, and I want to thank him for his help," the youngster revealed.
The recently concluded 2022-23 season was Likson's first full season with FC Goa. In addition to winning the GFA 3rd Division League, he also played well in the Hero AIFF Youth Cup for the Club, scoring a hat-trick in one of the games.
Lesvin, his younger brother, picked up football after seeing his brother do well. He also joined GFDC and followed a similar route to FC Goa, where he now plays for the U15 team. He won the GFA U15 First Division League title with the team.
"It is a dream come true for me to play for FC Goa. I always wanted to play for this club, and I am grateful for the opportunity that I have been given." Lesvin added. "Watching my brother do well and win trophies with FC Goa has been a huge inspiration for me. I am proud to be part of this team and to have won a trophy with them."
Their parents, Feliciano Rebelo and Josefina Furtado also had a few words to say about their sons' success. "We are proud of our sons and their achievements. We always knew that they had a passion for football, and we are only happy to support them. It feels wonderful to see them do well," Feliciano said.
Who motivates them the most? For the Rebelo brothers, the answer to this was quite easy. "It's us for ourselves. My brother scoring goals and helping his team win the trophy made me want to do well for my team. I also wanted to bring the Cup back home," Lesvin said, while Likson added, "Sometimes he (Lesvin) does better than me, whenever we train together or play among friends. We both push each other to be better and the rivalry helps."