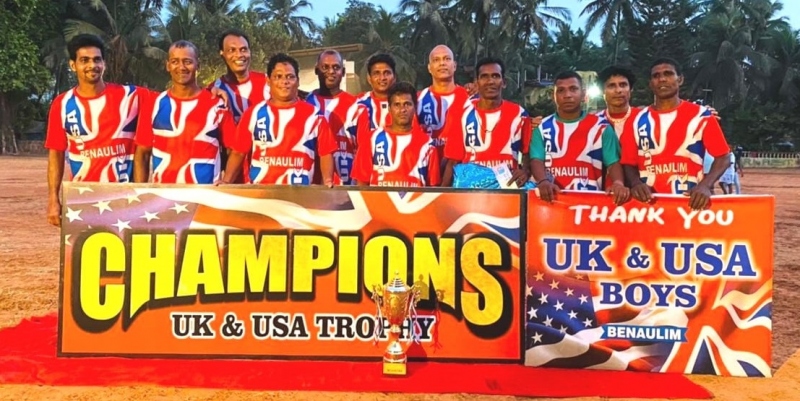 Photo Credits: The Goan Everyday
MARGAO
Marc Caterers Nuvem claimed UK/US Veterans Trophy Benaulim with a 4-3 win over Dovandem Veterans in the tie-breaker of the tournament organised by Mix Friends Benaulim at Xembu Moll ground, Benaulim recently.
The final was watched by a huge Easter holiday crowd as both teams battled it out to win the trophy. There were big names in action like Robert Fernandes, Marcus Carvalho, Remy and Vincent Colaco in Marc Caterers team and Bruno Couthino, Rafiq Bepari, Remy Barretto and Louis Fernandes in the Dovandem team.
However, with the match ending goalless in regulation time, the winners had to be decided with a tie-breaker. Marcus, Vincent, Remy and Rosario scored for the winners, while Rafiq, Allwyn and Remy Barretto converted for Dovandem. Tony Dias was the chief guest and distributed the trophies.
Individual prizes: First goal of the finals - Remy Colaco (Marc Caterers), Best goalkeeper - Succoro Azavedo (Dovandem Veterans), Hat-trick of the tournament - Rosario Carvalho (Marc Caterers), Best midfielder - Remy Barretto (Dovandem), Best striker -- Allwyn Fernandes (Dovandem), Best defender - Vincent Colaco (Marc Caterers), Man of the finals - Rosario Carvalho (Marc Caterers).