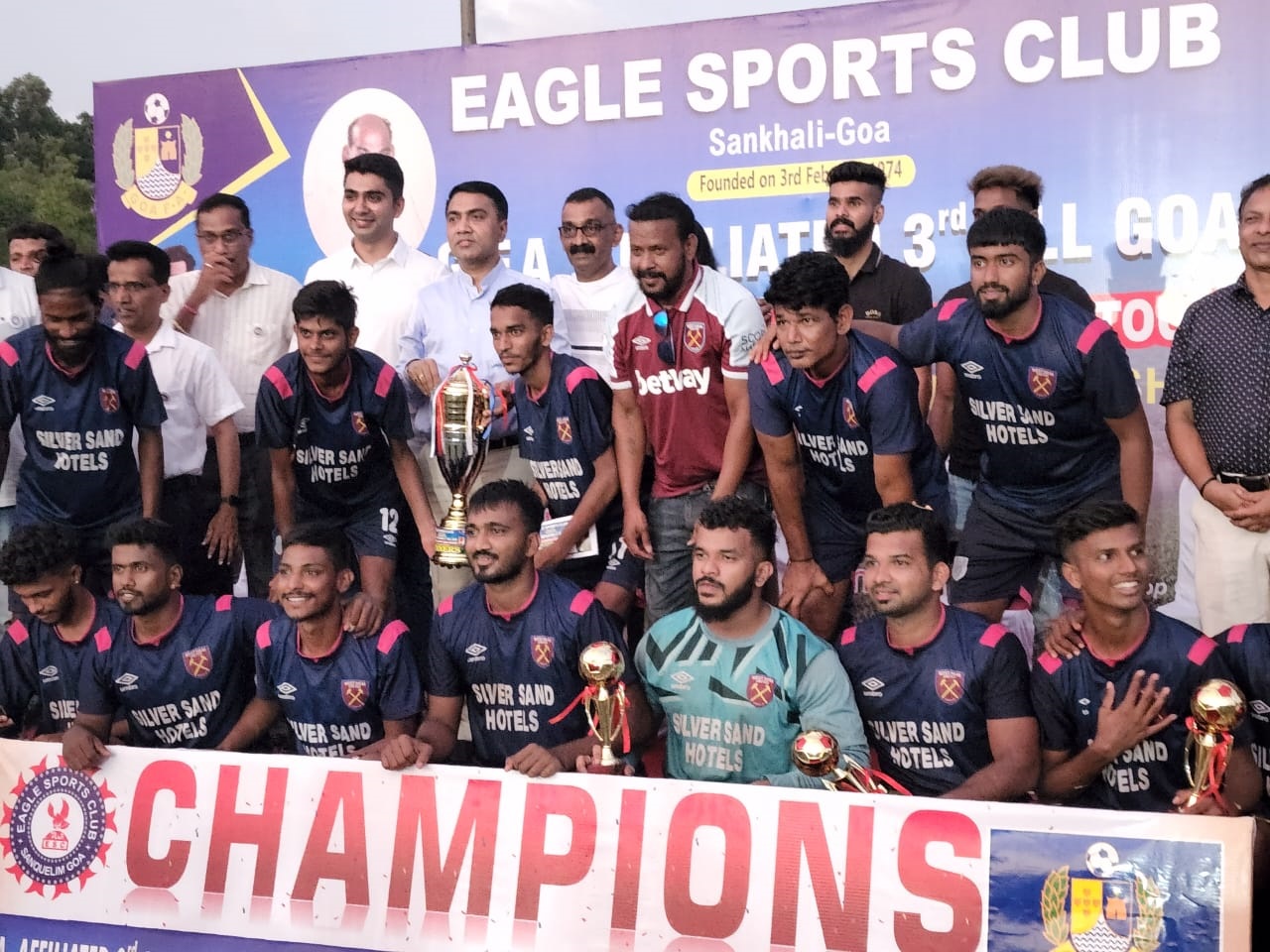 Photo Credits: The Goan
MARGAO
Candolim Sport Club won the 3rd All Goa Late Musa Ali Aga memorial football tournament organised by Eagle Sports Club, sponsored by Sukar Aga and Roshan Aga. Candolim beat St Anthony Marna Siolim 2-1 in the final.
Sonu Mandrekar gave the lead to St Anthony in the ninth minute. Aniket Naik equalised for Candolim SC in the 20th minute, 1-1. In the 25th minute, Aniket scored again to make it 2-1 in favour of Candolim.
St Anthony had many chances to score an equaliser but Candolim goalkeeper Chandan Redkar was on his A game to thwart the opposition. St Anthony almost levelled the scores but Mayuresh Naik's strike in the 50th minute hit the post.
Chief Minister Pramod Sawant was the chief guest for the prize distribution function, while Rahi Noorani was the guest of honour. FC Goa players Saviour Gama and Princeton Rebello were special invitees. Sponsors Sukur Aga, Roshan Aga, club president Prashant Phaterpekar, secretary Amol Betkikar, treasure Raju Naik, and football in-charge Sandip Kanekar were also present. Shyam Pednekar anchored the event.
Winners Candolim SC earned a cash prize of Rs 70,000 and a trophy while St Anthony received a prize of Rs 50,000 and the runners-up trophy. Raia Sporting and Sinquerim Sport Club were the other semifinalists.
Awards: Best defensive team - Sinquerim Sport Club, Man of the match - Aniket Naik (Candolim SC), Man of the tournament - Aniket Naik (Candolim SC), Best goalkeeper - Chandan Redkar (Candolim SC). Referee Tajas Nagvekar was felicitated at the hands of the Chief Minister on the occasion.