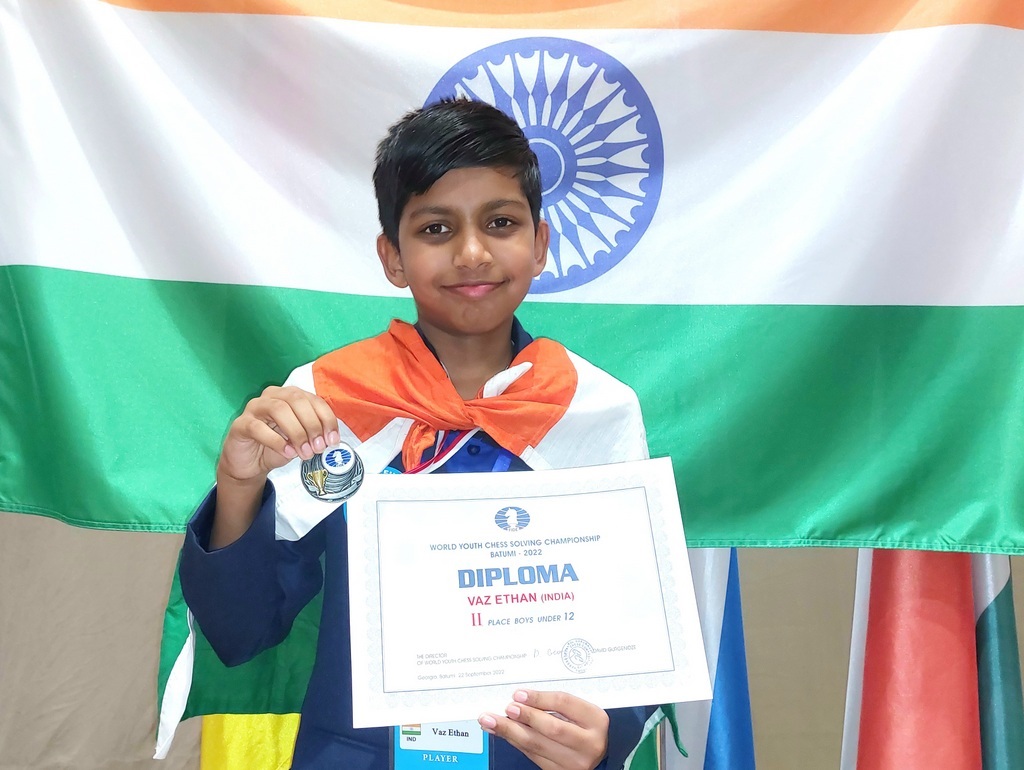 Photo Credits: The Goan
MARGAO
Goa's Ethan Vaz won a silver medal for India at the World Youth Chess Solving Championship 2022, at Batumi, Georgia. The championship was held alongside the World Cadets Chess Championship, where Ethan fell short of winning a second silver medal by just half a point.
The World Youth Chess Solving Championship was contested by 218 players from 39 countries in six categories, viz. Open and Girls in U8, U10 and U12. Ethan (Elo 1855) scored an impressive 36 points of possible 40 to clinch the silver in the U12 Open category, while Henry Edward Tudor (Elo 1927) of Romania took the gold with 39 points and Alex Villa Tornero (Elo 2114) of Spain won bronze with 34 points.
Ethan was awarded a FIDE medal and a diploma by FIDE at the hands of David Gurgenidze, who is an international arbiter and international Grandmaster in Chess Composition and the official delegate of Georgia to the World Federation for Chess Composition (WFCC).
As for the World Cadets Chess Championship, at the end of the 10th and penultimate round, Ethan ranked second and was in contention for the gold medal. Despite coming from a modest starting rank of 35 amongst the 156 payers, Ethan had an impressive run in the preceding 10 rounds in which he had faced his only loss against the top seed FM Uskov Artem (Elo 2377) of Russia in the 5th round after a perfect start of 4 on 4, before bouncing back strongly with two draws followed by three consecutive wins in rounds 6 to 10.
Taking on higher seeded opponents back-to-back and staying put at the top digital boards all along, Ethan (Elo 1885) had upset many higher rated opponents of 2000 Elo and above, including 2nd seed FIDE Master Movahed Sina (Elo 2345) of Iran and 4th seed Dotzer Lukas (Elo 2245) of Austria. If not a win in the final round for the gold, Ethan needed just a draw to secure at least the silver medal for India, as he was riding on top of the highest tiebreak score amongst all possible contenders. However, a loss in the final round to 10th seed Candidate Master Nurgaliyev Sauat (Elo 2133) of Kazakhstan denied him the second medal. Ethan's good performance, however, shot up his FIDE rating by a mammoth 174 Elo points to take it across the 2000 mark to an all-time high of 2059 Elo.
Last year Ethan had won a silver medal at the FIDE Online Rapid World Cup 2021 in the U10 Open category. Playing in the U12 Open category this time, Ethan narrowly missed the World Cadets medal.
"Ethan missed the second medal but won the hearts of players, parents and even members of delegations of other federations who approached him during the prize distribution ceremony and showered him with praise and much appreciation," Ethan's father Edwin, who accompanied him to Georgia, said.
Despite winning a silver at the World Youth Chess Solving Championship, Ethan said that he was disappointed at not being able to clinch a medal at the World Cadets Chess Championship. "I was aiming for the gold as that would be a wonderful tribute to all my supporters," said Ethan. "I would like to thank my sponsors Geno Foundation, The King's School, my coaches, Goa Chess Ad-hoc Committee and the entire Goa chess fraternity, SAG, SAI, AICF, the Indian delegation to Georgia, my fans and supporters, and everyone who contributed to my crowdfunding campaign to make it possible for me to participate and perform in these overseas championships."