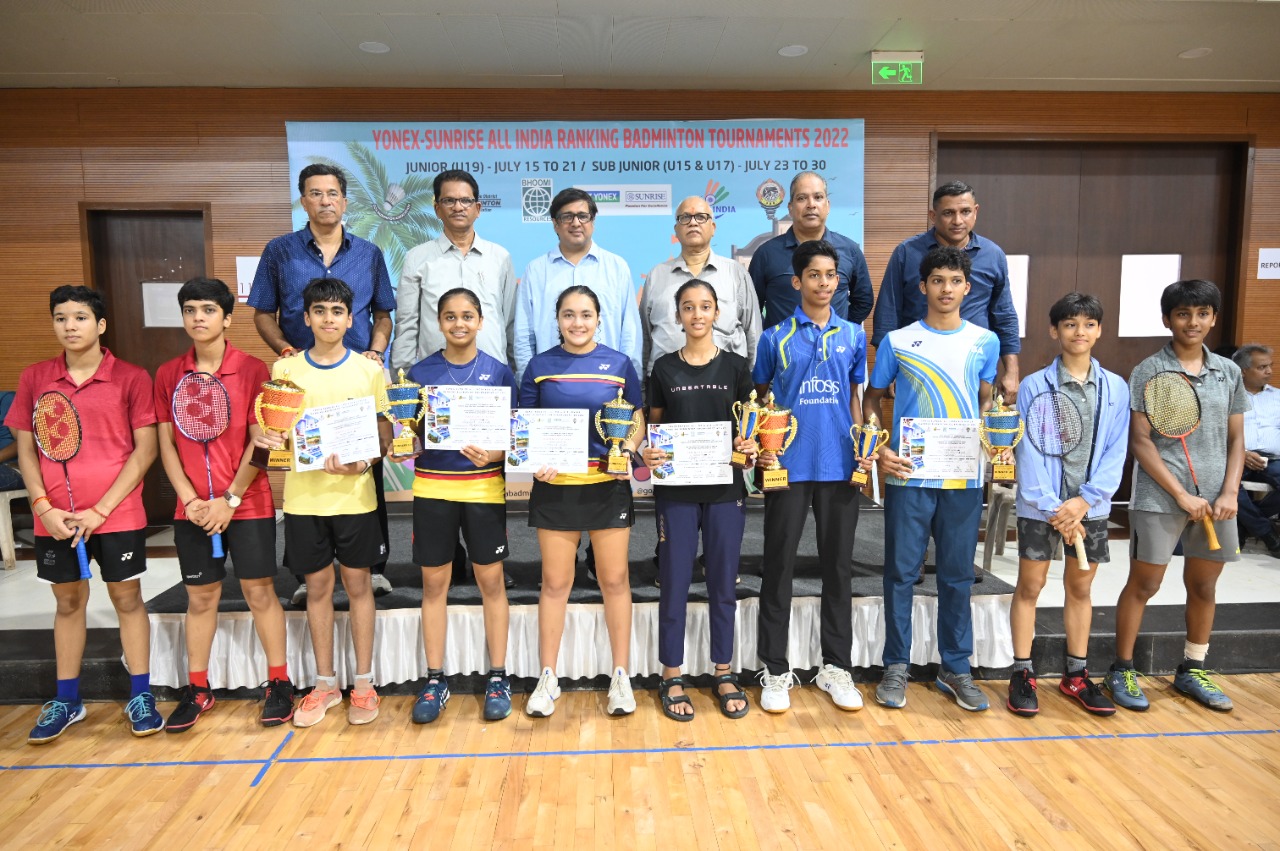 MARGAO
Abhinav Garg, Tanvi Reddy Andluri, Tushar Suveer and Sreshta Reddy K won singles titles as the curtains came down on the Yonex-Sunrise All India Sub Junior (U15 & 17) Ranking Badminton Tournament 2022 at Navelim.
Karnataka's Tushar Suveer (seeded 11), enjoyed a thrilling win in the first finals of the day, overcoming Maharashtra's Pranay Shettigar (seeded 3) in two closely fought sets to win the under-17 boys singles title. Tushar who had earlier knocked out top seed Sanskar Saraswat and number 4 seed Dhruv Negi continued his giant-killing act to win the finals 21-18, 23-21 in 48 minutes.
The under-17 girls singles finals was a big roller coaster ride, where Telengana's Sreshta Reddy K defeated Haryani Jiya Rawat (7) 21-14, 16-21, 21-17 in 58 minutes.
Ninth seed, Karnataka's Abhinav Garg had to fight hard to prevail over his compatriot Prateek Koundilya (2) in the boys singles finals in an edge-of-the-seat thriller that lasted 58 minutes. He won 20-22, 24-22, 21-18 to walk away with the U15 boys singles title. In the U15 girls' singles finals, Telengana's Tanvi Reddy Andluri (seeded 5) succeeded in causing an upset when she beat top seed Naishaa Kaur Bhatoye (1), Maharashtra, 21-17, 21-16 in 39 minutes to seal the title.
The under-15 boys' doubles was a showdown between the two top doubles pairs of the tournament. In one of the most awaited contests of the day, Telengana's Showrya Kiran J and Gnana Dattu, seeded number two, defeated top seeds Bjorn Jaison and Aathish Sreenivas PV from Kerala 21-19, 21-14 to secure the doubles title in 30 minutes.
The Under-17 Boys doubles on the other hand was a see-saw battle that went the whole distance. After battling hard for 55 minutes, Tamil Nadu brother duo of Dev Ayyappan and Dhiren Ayyappan defeated Arsh Mohammad, UP, and Sanskar Saraswat, Rajasthan, 10-21, 21-18, 21-16 in three tight sets to secure an upset win over the number 8 seeds.
Navelim MLA Ulhas Tuenkar, Margao MLA Digambar Kamat, GBA Officials Narahar Thakur (President), Sandeep Heble (Secretary), K N Jaiswal (BAI Observer), Vinayak Kamat (Technical Advisor), Manoj Patil (North Goa District President) and Vivek Saraf (Referee) graced the finals among others. The eight-day national ranking tournament was organised by Goa Badminton Association under the aegis of Badminton Association of India, and in collaboration with North Goa District Badminton Association and the Sports Authority of Goa.